On the 25th and 26th of November, a grand festival known as Korea Culture & Tourism Festival 2017 was organized by Korea Tourism Organization. I attended the two day festival which took place at the Ambience Mall, Gurgaon. It was a very pleasing experience, where i got to see stunning performances, Enjoy Korean cuisine, and indulge in various activities. After all, who doesn't love to experience a new country from the comfort of your own city!
Korea Culture & Tourism Festival 2017
The festival also had few dignitaries like Mr. Min-Hong Min: Executive vice president of International tourism of Korea Tourism Organization, Mr Kyung-Han Kim: Minister Counsellor of embassy of Republic of Korea to India, Mr Sang-Soo ku: Chairman of Korea Association in India and Mr Suman Billa: Joint Secretary, Ministry of Tourism among others. Several representatives of the regional tourism boards of South Korea and related organizations such as Gyeonggi Tourism Organization, Busan Metropolitan City, Busan Tourism Organization, Incheon International Airport Corporation etc. also graced this power-packed event.
I found this festival a holistic experience as it was aimed to showcase South Korea's rich legacy, heritage, cultural and culinary practices. There were various stalls installed by Korean companies to introduce their products in India. Being a skincare enthusiast myself, I was super excited to see the cosmetic brand, Innisfree giving out free skincare samples to the visitors.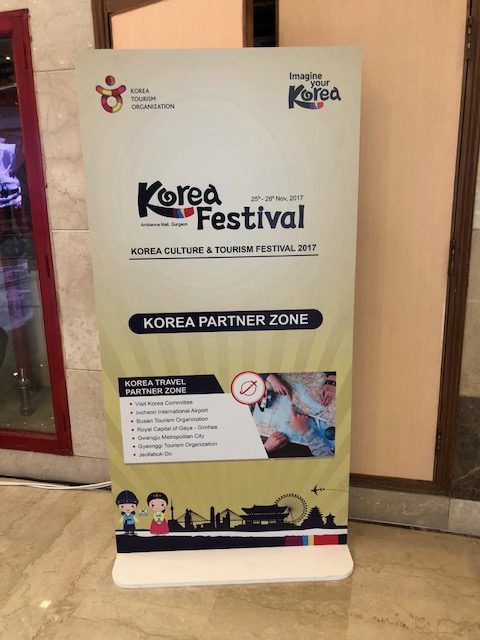 Other entertaining activities that made my day were: face painting, demonstration of Hangeul calligraphy, video clips that showed interesting tourist destinations and cultural heritage of Korea. The highlight of the festival was the stage performances by popular Korean artists. One of them was Nanta, a non – verbal performance and the other was B-boying by Gamblerz Crew. Both the performances were so energetic and action packed that, it made the crowd go "encore".
Detailing out the festival; there were numerous live food counters that served yummy Korean delicacies, special kiosk which had Korean souvenirs, an interesting dress-up photo booth where you can have your picture taken in a Korean background wearing the traditional Hanbok. For the techie lovers, there was Virtual Reality zone where you could experience Korea from up front!
These two days were like a mini Korean vacation for a travel enthusiast like me and alike. Personally I felt this festival was a grand success and would surely act as a booster to strengthen South Korea-India relationship.
I would love to visit this festival next year again☺