Karva chauth is just around the corner. It is one popular festival celebrated in India. On this day, women fast throughout the day for their husbands. It is a very common site to see women dressed up, decked up looking pretty in traditional attire. Many women, like draping sarees for this festival. We are here with some ideas of blouse designs that are quite popular this year. Karwa Chauth is just around the corner, so, we suggest you go for either your favourite boutiques or well, the most convenient, go shopping online for the latest blouse variants. Check out these 5 designs, we have selected for you…
The trendiest blouse designs for Karwa Chauth
Kutch Mirror Work Blouse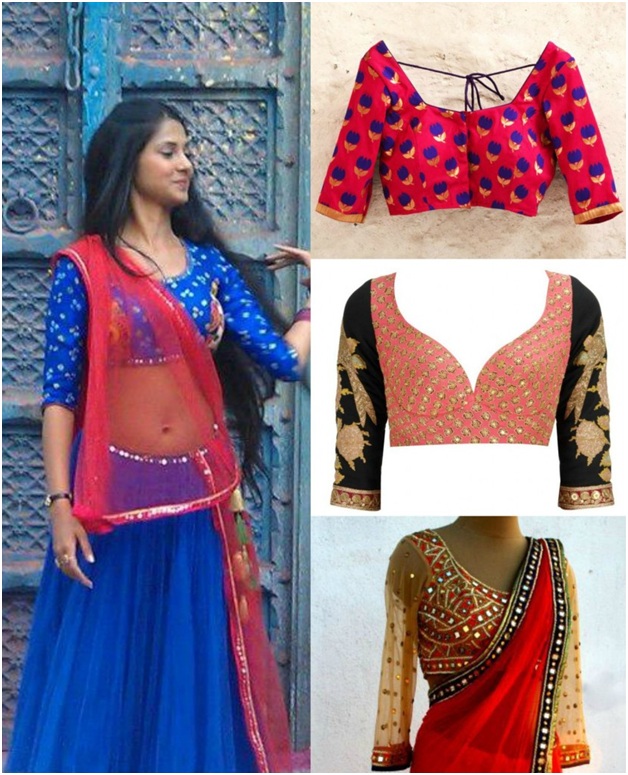 This mirror embellished blouse is among the hottest blouse designs for the upcoming Karwa chauth. A major part of the Karwa chauth festivities is at night. The mirror work looks very well at night terrace as the Diya lights, terrace lights reflect on the mirror work, beautifully.You do not need to go overboard with mirrors. Anything that has scattered mirrors or stripes of mirrors, incorporated beautifully in the design would look awesome.
Three fourth sleeves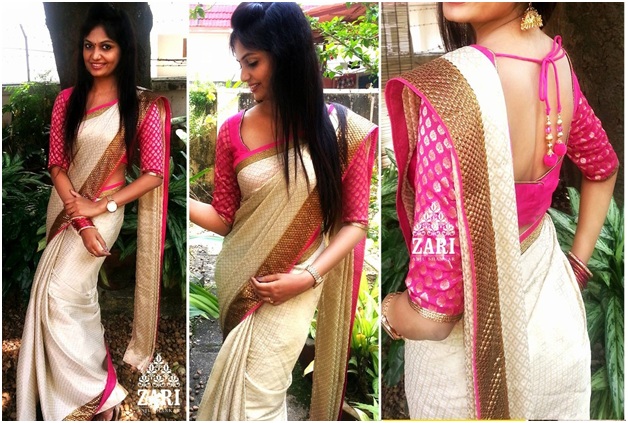 Three fourth sleeves of blouses look really elegant with all sorts of Sarees, especially Silk sarees. With other fabrics, sleeves made out of intricate net fabric, looks very feminine. This kind of blouse design work the best for women who have bulky and fatty arms as three-fourth sleeves camouflage the bulkiness of arms, really well. If you have slender arms and want to wear this type of blouse, go for heavily embroidered sleeves.
Cape Saree Blouse for Karva Chauth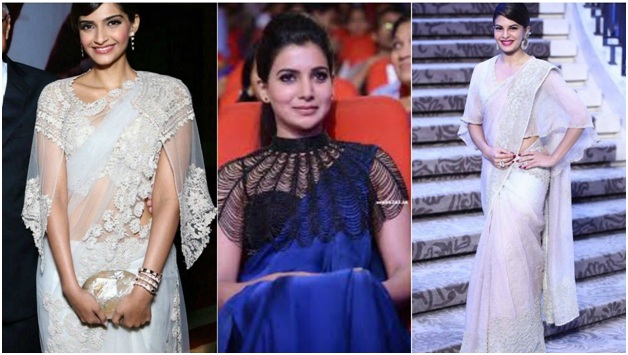 If looking different yet pleasant is on your mind for this Karwa Chauth, we suggest, you go for Cape Saree blouses for this Karwa Chauth. Wear a sheer, lightly embroidered cape to look leaner. Pick a cape in a slightly contrasting colour or heavy embroidery to look fuller with your Saree.
Cold shoulder blouses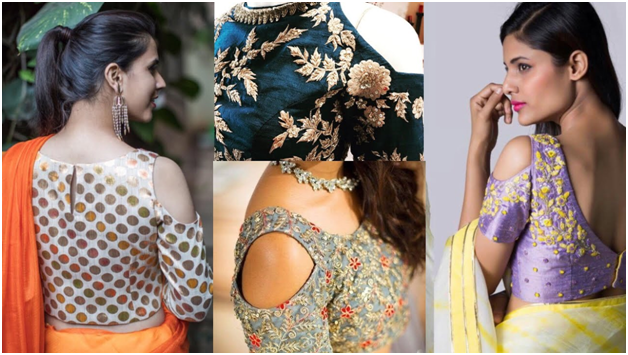 Cold shoulders are a rage, this season. If you have a beautiful neckline, collar bones and shoulders and want to flaunt them, you must go for cold shoulder blouse design.If your local boutique is not very confident with stitching these, go shopping online and you will find plenty of options, out there. You can bare the shoulders or go for a covering of net or sheer fabrics on shoulders. Adding some light embroidery, embellishments or broach makes this blouse design look very elegant.
Cut out blouse designs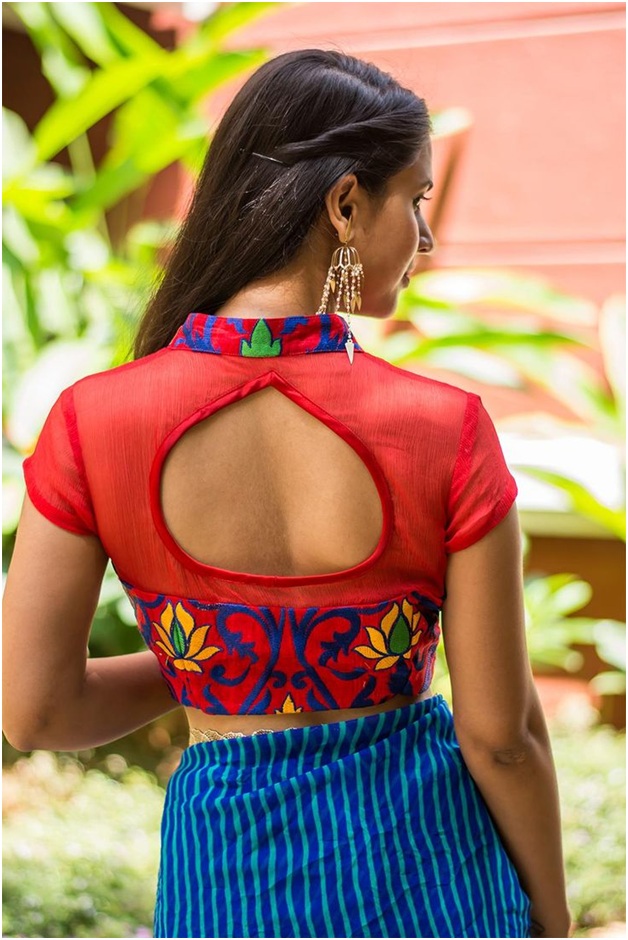 They say, if you got it, flaunt it! Cut out blouse designs with various shapes cut-out at the back of the blouse are quite popular this season. This a cool way to add an element of innovation and surprise to any regular looking blouse. Most common, cut-out patterns are circular cut, triangular cut, paan cut and drop shaped cut. Here, check out some latest cut patterns for inspiration for your Karwa chauth saree.
So, these are 5 of the trendiest saree blouse designs that you can flaunt this festive season to look your glamorous best.