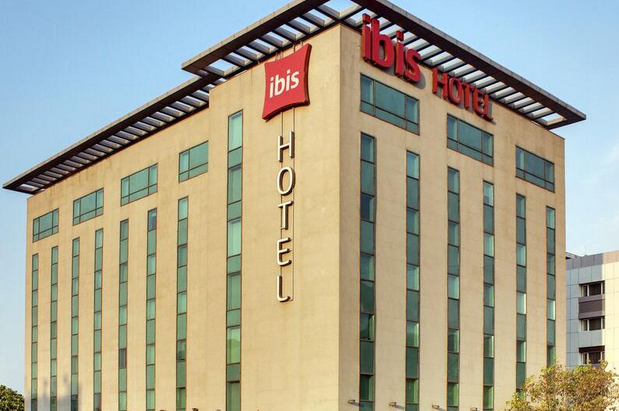 The Hotel Ibis belongs the Accor group of Hotels.The Accor group has a number of hotels under it's flag, those being: Ibis, Novotel, Sofitel, Raffles, Fairmont hotel , Pullman and a couple of more. I am a full time blogger and the nature of my work requires me to travel frequently to different parts of India for business meetings and discussions. Due to this high frequency of travelling, it does not make sense to spend huge amounts on hotel stays.Hotels by Accor are designed specifically for business travels who need budget accommodation that has a neat rooms and all basic facilities.So,  Hotel Ibis at Mumbai Airport is a decent option for frequent business travelers.
Hotel Ibis is located at a  roughly 5 minutes drive from Mumbai domestic airport terminal and 15 minutes from the International terminal.So, it is pretty easy to access.
Hotel Ibis at Mumbai Airport Is a Decent Five Star Hotel for Frequent Business Travelers
Let us now talk about the key features and facilities available at this hotel along with some pictures.
24×7 room service: After business meetings, usually, one is so exhausted that going to a restaurant specially is not a viable option.So, 24 hours room service is a welcome facility.Quick room service.
High speed WiFi: Do I need to say anything about the need of high speed internet these days.
Comfortable and cozy rooms with a nice and crisp ambiance.
Idea for solo travelers and for twin sharing.
I was traveling with a friend and after fulfilling our business commitments, we returned to the room for lunch. We placed an order for:
The food was yummy and the ice tea was really refreshing.
For Dinner, we preferred going to the Spice restaurant as we were pretty relaxed after the afternoon nap.The Spice restaurant is operational throughout the day and night. We ordered, the traditional Maharashtrian thali, which was recommended to us by the head chef at the restaurant.
Another star feature that I want to emphasize is that they serve the breakfast buffet till 12:30 PM to suit the needs of different travelers who have to catch different flights.Kudos to the hard working restaurant team and management for this initiative!!
In this hotel, they have all the facilities that you would need as a business traveler. Do not expect luxury facilities like gym, spa or swimming pool here because, this hotel is designed on the concept to cater to business people and not for a family holiday.However, this can be considered for a short stay with your spouse. They do have a moderate size bar and a recreation zone! They also have a couple of spare computer systems which business traveler can use for important work.
All in all, I totally recommend Hotel Ibis Mumbai airport for business related travel and short stays.