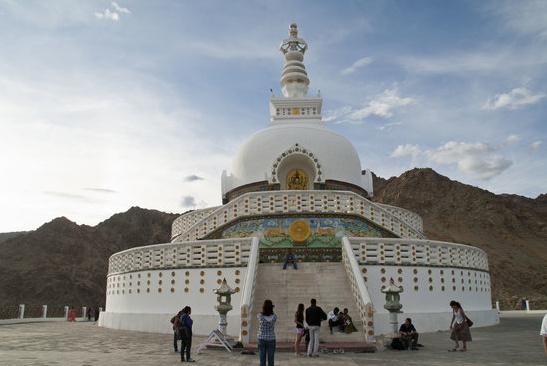 Shanti Stupa is situated on a peak in Chanspa, Leh locale, Ladakh, in the state of Jammu and Kashmir. The Shanti Stupa was made to depict world peace and prosperity. Situated at a tallness of 4,267 meters , the stupa is approx. 5 kilometers from Leh – the capital of Ladakh. It was founded in 1991 by Japanese Buddhist Bhikshu Gyomyo Nakamura.
The stupa is open for visitors between 5:00 a.m. also, 9:00 p.m. These is also a small Buddha temple situated right next to the stupa, is something that you shouldn't miss. Monks and tourists can be seen performing meditation which itself is an experience. I too tried doing meditation and trust me, it was by far the best experiences ever.
As I was in Leh for 4 days, I visited Shanti stupa during the day as well as night. Both had it's own charm though during the day time, it's quite hotter so I suggest you visit this magnificent monument between 5PM to 7PM.
All in all, it is one MUST VISIT place in India.