A national  level seminar that aims to spread awareness amongst people regarding fitness and nutrition is being organized by the Physical Education Foundation of India. PEFI  is a registered NGO  that was established in the year 2008. This event would be a part of a larger event, "Sport India 2017"- 4th India International Sporting Goods Show on August 23, 2017 at Pragati Maidan, New Delhi (India).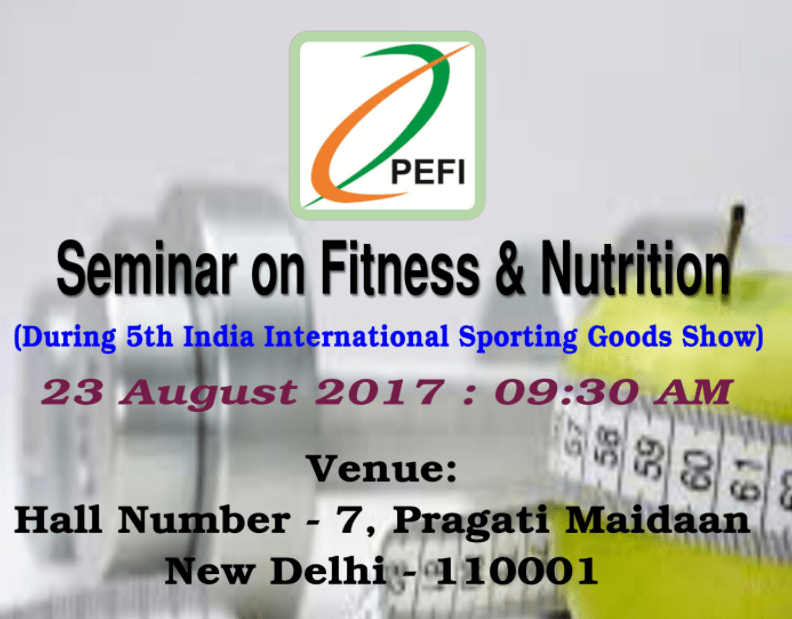 Goeventz offers to you to register yourself for this event in a no-fuss, hassle free way. Goeventz is a Govt. approved portal therefore, you can be pretty sure that your money is cent percent secure with us. We have a " no questions asked" cancellation policy, just in case, you decide otherwise.
Check out the upcoming events in your city on Goeventz.com for latest updates on educational seminars, marathons, cycling events, yoga shivirs, musical nights and much more.
This seminar shall benefit all professionals associated with Fitness & Nutrition Professionals like nutritionists and personal trainers as well as researchers, scholars and industry professionals. Experts in the field would share their knowledge and experience in order to identify the modern challenges pertaining to Fitness & Nutrition. The event shall include the following:
5 Keynote lectures from prestigious Fitness & Nutrition Experts, in the industry.
Short verbal presentations from young Indian researchers
Open discussion with experts belonging to various renowned universities across India.
This exhibition cum event, that is, "SPORT INDIA 2017" offers itself to be a great business, relationship and networking platform for the national and international sporting goods, equipment as well as sportswear. The event will present a huge variety of sports and fitness products. There shall also be stalls of services pertaining to indoor, outdoor sports and adventure sports.
Other highly focused, concurrent pavilions that shall be put up along with SPORTS INDIA are:
Fitness India 2017
World Adventure Show 2017
Golf India 2017
Sports Infra- tech Expo 2017
So, if you are a sports and fitness enthusiast or professional, you have got to attend this event which will cover the entire gamut of Sports and allied industries. You can get yourself registered for this event at a nominal fee of INR 100. The tickets can be booked online at Goeventz.com.