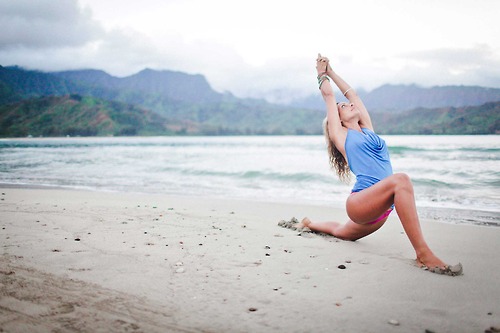 Do you have any idea about the amount of pressure and stress that your body goes through? Well if not, then it is high time to do so. Before your body screams out in pain, here are some yoga pose which can give your body the best relaxation even at your working desk.
Simple Yoga Poses You Can Do Right at Your Office Desk to Stay Fit
Crescent moon asana
The side of your body tends to breakdown while hunching over the monitor. Discomfort is caused in the shoulder and the neck region. The crescent moon position while sitting at your office chair helps you to concentrate with clear head and erect spine and greater concentration.
You just need to lift the arms and stretch the fingers wider. Lean towards left and take 3 deep breaths. Repeat it with the side too and notice the difference.
Finger and wrist stretching
Typing and other relevant works creates tension in the tendons and muscles in areas like hands, fingers and wrists. Hence, extra blood flow is appreciated for better functioning of the areas.
Extend your hands and draw circles, both inwardly and outwardly, with your fingers and wrists. Or you can shake the fingers in tension. You can also bend the wrist inwards and outwards.
Sitting and standing chair position
Most of us are seated in the office for the whole day. Along with back pain, our hamstrings give up. We have to depend on our dear knees and upper back to get up from the seated position. Yoga has a solution even for this.
Try to sit with your knees maintain them at 90 degree. Next, without using arms try to get up from the seated position. Again sit down straight without leaning on any side.
Notice the changed energetic self after practising the yoga poses within your workplace. Your body would co-operate with you the entire day and help you to perform well.