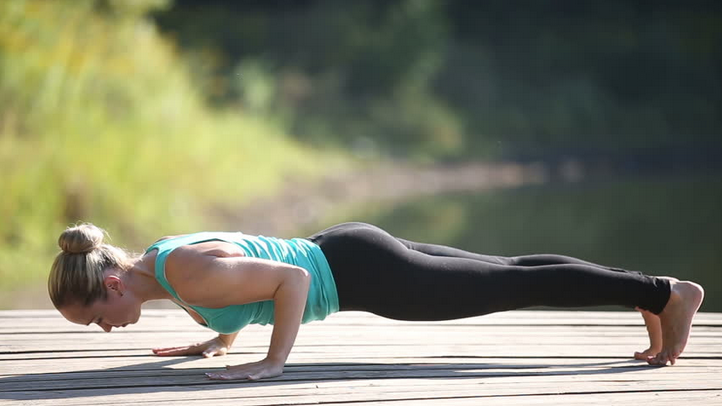 Yoga pose or position is good for whole body. When you try this, your body and mind get relaxed. You get a new look with full of energy and confidence. In the same manner try this yoga moves, if you face obesity issues. Coupled with your determination to lose weight and diet this you can achieve the goal.
Here are the 5 Yoga Moves That Flatten Your Tummy.
Chair pose
This pose makes you to feel sitting in a chair. It reinforces your muscles in the lower back, chest, hips, and spine. Stand up with your hands together. Bend the knee towards thighs and ensure parallel to the floor. Now, lift your hands above head. Bend your torso slightly forward and start breathe. Continue on this pose till you feel tired.
Plank pose
This is a highly successful pose, very easy and simple to do. It reinforces and nurtures your arms, back, shoulders, buttocks, abs, and your thighs. Focusing on the core issue, this pose is suggested for runners. This is the best pose to get rock hard abs.
Boat pose
This is known as Naukasana pose and a trusted pose to tone your abs. on the mate have your feet together with arms behind. Now, breathe air in and out by lifting your chest. Ensure your eyes, toes, and fingers are in line.
Bridge pose
This pose is right for your hip joints and spine. It also removes the pain, discomfort, stiffness in the spine and hip, apart from treating any disorders related in your neck, palms, and arms. The yoga keeps the blood pressure under check, relaxation to mind, improves digestion.
Downward facing dog pose with knees to nose pulse
This is a modification of the downward facing dog position. In this pose make sure your nose faces the bent at the knees. This is a great pose to alleviate the fat from your lower abdomen, since the muscles in the part gets the exercise.
The article gives an insight of the yoga moves to compress your stomach. Learn under a certified trainer and start doing self. Don't try self; it will harm your health. Consult your health care professional about your health.