Gold, silver, and copper are metallic shades of the past. There's a new metallic shade in town, and it looks like it's here to stay. Yes, the gorgeous shade I'm talking about is rose gold. This muted blonde shade with a pink undertone seemed to burst into the market all of a sudden and has managed to make a place for itself in the clothing, handbags, footwear, and makeup industry. So it was no surprise when it sneaked its way into hair color world as well. So here we are with our topmost picks for styling your rose gold hair color!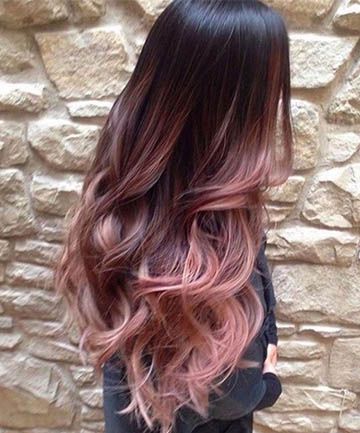 Dreamy Styling Ideas For Rose Gold Hair Color
Blush And Lemon Rose Gold
Rose gold itself is a beautiful hair color. Add to that undertones of blush pink and lemon yellow and you'll have a color which is breathtaking.
Rose Gold Blonde Balayage
Of course, this list could never be complete without a good ol' balayage look thrown into the mix. This light blonde based look has been elevated with hints of rose gold streaked into it to create just a suggestion of color.
Muted Rose Gold
This a gorgeous hair color is less rose and more of gold. This mostly gold color has a hint of pink added to it which gives a muted and subtle look. Though understated, this color job has a quiet elegance all its own.
Rose Gold Sombre
Sombres are all the rage this season owing to their subtle and more naturally blended look. This particular style uses a darker mauve at the roots that blend fluidly into a light rose gold at the ends to create a stunning contrast of pink toned colors.
Desert Rose Gold
If you've ever been to a desert, you'll know that its enormous, continuous stretch of sand is one of the most spectacular things to witness. Recreate that gorgeous effect on your hair with the help of a light brown base color highlighted with a subtle shade of rose gold.
Rose Gold On Chocolate
Don't let your dark locks stop you from getting the rose gold hair. Just highlight your hair with rose gold and blush pink in a balayage to make an attractive mélange of colors. Go for some loose curls to bring out the movement and dimension of this color look.
Platinum Rose Gold
When two metallic hues come together, the effect they create is guaranteed to take your breath away. The platinum-based rose gold shade will have you looking picture-ready always. Simply style your hair in a poker straight way to finish your picture perfect look.
Tinted Rose Gold
Who doesn't want to be a redhead? Ever since I watched The Little Mermaid as a kid, I've wanted to have hair just like Ariel's. A brilliant way to style your redheaded hair would be to go with some rose gold highlights that frame your face and add depth to the whole look.
Peachy Rose Gold
Imagine gulping down a glass of peach iced tea on a hot summer day to cool down and relax… Doesn't that sound heavenly? Show your love for this beloved beverage by getting your hair colored in its peach-tinted rose gold shade.
Rose Gold Unicorn
One area where unicorns have completely dominated is in hair colors. This soft pastel pink and rose gold look is guaranteed to make over your look into as a beautiful unicorn princess. Style it in a short wavy bob to make the most of this look.
And that's it! That's the end of our list of top styling ideas for rose gold hair. Didn't you fall in love with every single one of them?