Mohd. Rafi was an eminent veteran playback singer. He sang songs in various Indian languages.The reason why he is still loved and remembered so much is because of versatility of his songs which ranged from classical numbers to patriotic songs to entertaining qawwalis to deep ghazals to mesmerising romantic duets. He did full justice to the onscreen character by moulding the tone and pitch of his voice as per the persona of the actor and theme of the song. He has won several Filmfare awards in his career and was honored with Padma Shri by the Indian Govt, in the year, 1967.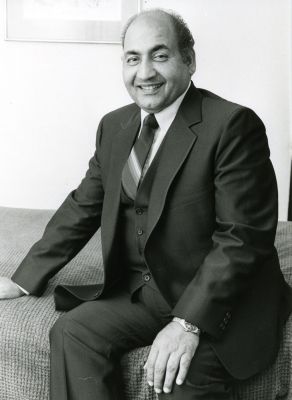 As a tribute to his incomparable contribution to the music of Indian cinema, Siri Fort Auditorium is going to conduct a musical event in the loving memory of Mohd Rafi sahab. This is going to be a musical journey graced by many Bollywood dignitaries like actor Shakti Kapoor, music director Anandji Virji Shah, music director Ismail Darbar and many other Bollywood celebrities and political personalities.
The event will include highlights and song performances focusing on the musical journey of Rafi Sahab in Indian cinema. The event would take place on 37th barsi of Rafi ji on 31st of july, 2017 as a tribute to his timeless songs. The timings shall be 5.30 pm to 8 pm.The tickets price range from 100 INR to 500 INR per head.
A Musical Journey With Mohd. Rafi at Siri Fort Auditorium – Delhi
Let us know a bit more in detail about the various celebrities who shall be gracing this event.
Anandji Virji Shah
Anandji Virji Shah is a famous Indian music director of Anand ji-Kalyan ji fame. He has contributed to the music of many  hit Bollywood films like Phool Bane Angaare (1963), Parivar (1968), Safar (1970), Kahani Kismat Ki (1973) and Kora Kagaz (1974). He has many laurels and awards in his kitty.
Ismail Darbar
Ismail Darbar  is an Indian music composer and a proficient violinist. You know him from his music to legendary films, such as: Hum Dil De Chuke Sanam ,Devdas and Kisna. He has also been part of the jury in many musical contests on television and was a participant of Bigg Boss 3.
Shakti Kapoor
Shakti Kapoor needs n introduction and know know him very well from a series of negative as well as comic roles he has played in famous Bollywood movies. He is the father of Shradha Kapoor.
Shahid Mohd Rafi
Shahid Mohd.Rafi is the youngest son of iconic singer late  Mohd. Rafi Sahab. He is a melodious who has performed in many live shows and concerts, across the globe.

To enjoy this concert to the fullest, book your tickets on Goeventz.com. They will generate an e-ticket for you which you can show at the auditorium and avail your seats. Trust them for secure and safe payments and bookings for various events across India. In case of cancellations, you get 100 percent refund of your hard-earned money.