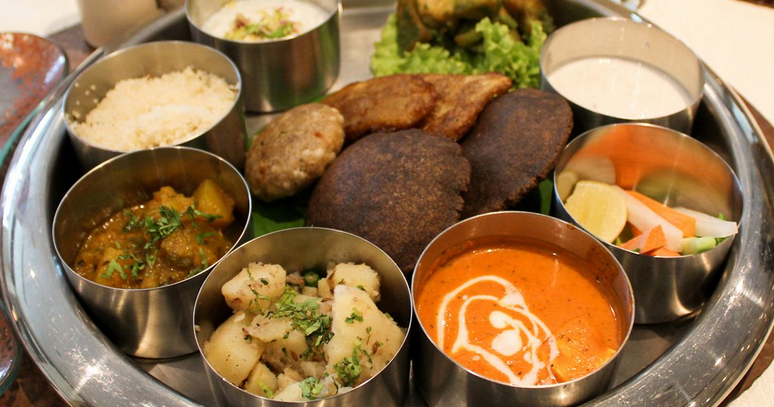 There are many restaurants across India that serve food especially prepared for the festivities of Navratris.The meals served in these restaurant are cooked without using onions, garlic, tomatoes and routine cereals.
Indian Restaurants For Navratri Food In Delhi:
Indian Grill Room,DLF golf course road, Gurgaon
This restaurant offers a delicious Natratri Vrat food including:Sabodana tikki, Cucumber veggie salad, Jeera cooked potatoes,Sitafal sabjee, Paneer sabjee etc to name a few.
Rajdhani Restaurant, Connaught Place
Navratri delicacies cooked in typical Gujarati style, Rajdhani offers some yummy treats like:kele ki sabzi, refreshing aamras, sabudana kheer, kuttu puris and  samwat chawal.
Nirula's: all outlets
All the outlets of Nirula's offer Navratra thalis. Some of the delicious dishes to check out, include: singhara puris, aloo sabzee,sabudana tikki, arbi rasedaar, veg raita.
Sagar Ratna
Sagar Ratna has opened it's outlets almost Pan India, now.They serve tasty Navratra Thalis.Apart from the regulars like Vrat ki poori and sabzee, other treats to try out at Sagar Ratna include: Arbi masala and samvat pulao.
Bikanervala
There are multiple outlets of this restaurant across the country. Here, you get to enjoy a wide variety of falhari delights, including:paneer tikka, badam cutlets,singhara atta papri chaat,shahi koftas and even, falhari namkeen.
Nathu's
The USP of the Nathu's Navratra thali is food cooked in Pure Desi Ghee but surprisingly enough, the food is light and refreshing.Their sitaphal ki sabzi, sookhi arbi, pudina chutney and bheej barfi are a must try.
Atypical Navratri delights at The yum yum tree
If towards the mid of your Navratri fasting, you are looking out for a refreshing change from the regular kuttu ki pooris and Potatoes.Their different kind of Navratri delights include:sushi,sattvik curries, dimsums etc.All the ingredients and spices used follow the principles of falahaar.
Haldiram's
Well, Haldiram's needs no introduction. When it comes to sweets, Haldiram's is a brand.Apart from serving yummy vegetarian food, all throughout the year.Haldiram's always has a provision for Navratra thalis during these auspicious 9 days of maa Durga.
Sattvik
This place is located on the second floor of Select Citywalk, Saket.They serve North Indian cuisine with the routine recipes prepared very differently to avoid adding a lot of spices and over-cooking.The food is refreshing.Visit during Navratras to taste their delicious vrat food.
Govinda's
This restaurant is restaurant is located within the premises of the ISKCON temple in Delhi.They serve delightful Navratri food prepared with Love and devotion.
Suruchi restaurant
This restaurant serves mouthwatering, unlimited food prepared with perfect blend of spices.The food is moderately priced.Their Navratri menu is a must-try.
So, these are the Top 11 Indian restaurants for Navratri food in Delhi.