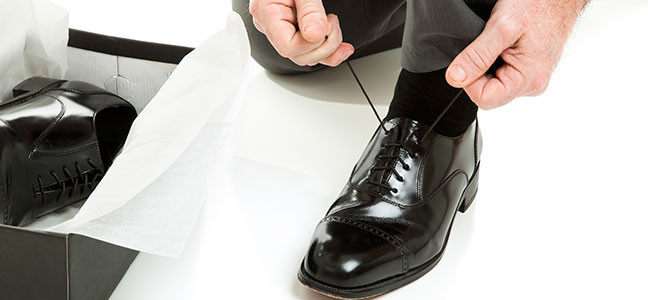 Buying a Men shoes is a tedious task like selecting a car. Before buying a shoe, you should have some idea about buying a shoe. The post gives more to your bag; these will come in handy while buying a shoe that matches your dress enhances your look.
7 Buying Guides for Men's Shoe
General shoe buying tips
For the best selection and fit, visit the dress shoe stores. For best deals visit outlet malls, department stores, and wholesalers. Make sure Go to the shop in morning so that the salesman guide you in selecting the perfect fit.
Pick shoes that matches dress
Always keep in mind the dresses in the wardrobe and select accordingly. Ensure the colors of the shoes are darker than outfits. Buy matching socks, belt, and tie to enhance your look.
Comfortable shoes
While buying a shoe, check your foot size and pick the right one.
Sizing
This is an important point while picking a shoe. Every brand has different sizes. Furthermore the working style of yours has an impact on the foot. You have to work in the standing position for hours. So, pick a right shoe that suits your working style.  Listen to salesperson voice, not fully.
Test different brands
While buying the shoe, try out different brands and indulge in a royal walk like in the fashion show. Test it before the mirror. It is called test drive.
Try different shoes for jeans and pants
Buy separate shoes for jeans and casual pants. Don't pick shiny shoes doesn't match for jeans. Instead buy sandals, loafers, sneakers, lug soles, and boots.
Heals and toes
Heals and toes plays a part in picking a right shoe for you. Ensure the picked shoe fits to your foot without damaging the foot.
The above said guides will guide you in picking a right shoe. Read and understand before stepping out to buy a men shoe.