India is one of the best shopping destinations in the world. As a growing economy it has many shopping malls and many are under construction. The retails shopping offer modern, trendy and traditional Indian style shopping to the tourists and home buyers.
Here is the list of 10 best malls in India for amazing and best shopping.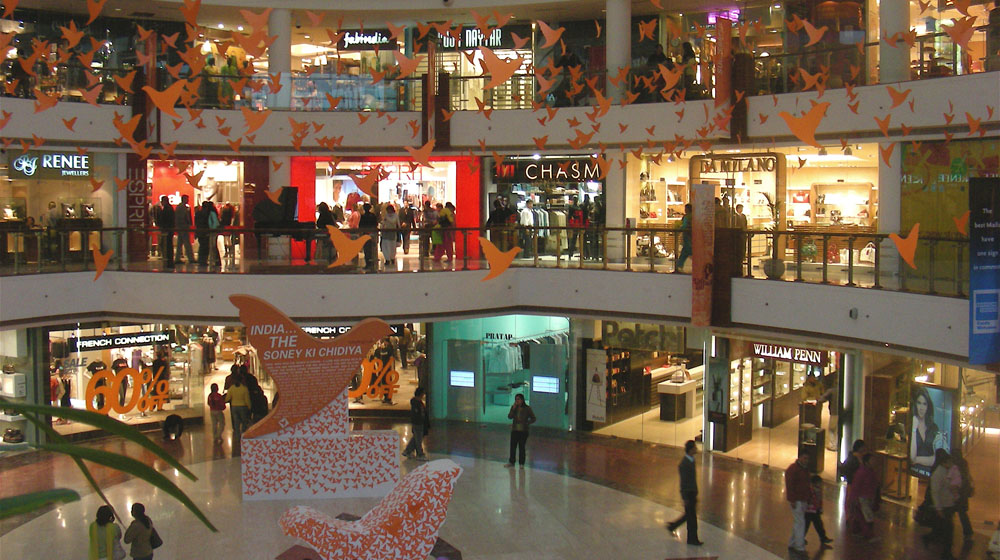 10 Best Malls in India
DLF Mall of India, Noida
It is largest shopping in India built by well known DLF Company. It has 7 floors with total build up area of 1,900,000 square meters. The mall houses many restaurants serves Indian and international varieties. The mall has 330 stores and services rented out to 18 tenants.
Select City Walk, Delhi
Located in Saket area of India's capital it is the second largest mall in the country. Opened in 2007 the majestic look mall attracts people from Delhi, and surrounding states. It has 180 stores rented out to 8 anchor tenants. The mall has 1,300,000 square feet and 3 storey building.
Orion Mall, Bangalore
It is second biggest mall in Bangalore. Built in 4 floors with a build up area of 8.5 lac square feet, the mall has two parking areas. Inside the mall there is a lake gives good ambiance and wide open space for people to sit and walk.
Inorbit Mall, Hyderabad
Standing majestically in the city of Hyderabad the mall has 5 stores and services. There are two tenants in each property. Built with large parking area its total buildup area is 6, 00,000 square feet.
Fun Republic Mall, Lucknow
Located in the Lucknow city, the mall houses food courts, cinemas, retail stores, 60 room hotels, gaming zone for visitors to enjoy shopping and built in 18,000 square meters.
Mantri Square, Bangalore
Built in 1.7 million square feet, the mall has 3 floors. It houses famous retail stores, 6 INOX multiplex cinemas, and 252 stores.
Phoenix Mall, Chennai
It is a popular destination for the people of Chennai for shopping and enjoyment. Built in over one million square feet the mall has 250 stores offers several services and entertainment.
Elante Mall, Chandigarh
The mall has 4 floors and one basement area with total build up area of 1,150,000 square feet. Located in the heart of Chandigarh, it offer good ambiance for people coming for shopping.
Phoenix Market CITY, Mumbai
Located in Kurla a busy part of Mumbai the mall opened in 2010. Known for its architectural work the mall has 700 services and stores with 4 floors.
Z Square, Kanpur
Z square shopping mall is located in the heart of Kanpur City and its area is 5 acres and built-up area is 900,000 sq-ft. This is one of the biggest mall in India and has more than 150 International and National brands under one roof. This Shopping mall is open for 365 days in a year. Z square is 1st mall in India with atrium design along with square track. It is also India's 1st mall having all atrium facing shops with no back lanes.
This is the list of best shopping malls in India for shopping visited by hundreds of thousands of people daily.