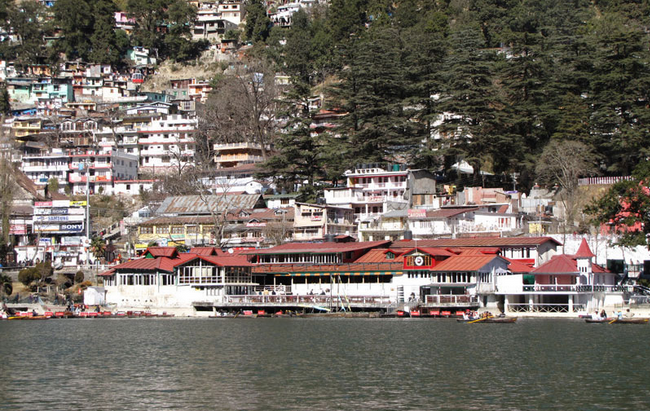 Nainital is a small hill station that is visited by folks to take a break from the scorching heat of Summers.Here are 11 beautiful places in and around Nainital that you must visit.
Places To Visit In And Around Nainital
Nainital Lake
This Naini Lake is nestled amongst the hills.There is a cool environment around the Lake and this is a nice place to go boating and may, be a stroll with your loved ones.
Naina Devi temple
The temple of Naina Devi is a serene place with a clean surroundings.A great spot to visit for the religious fellows, away from the hustle-bustle of mall-road. Visitors find the ringing of bells, therapeutic.
Mukteshwar Temple
The Mukteshwar temple is a 70 Km drive from Nainital.This place offers some really picturesque scenery to look upon.A must visit to feel spiritual and at peace.You can always stop on the way to catch a glimpse of the Apple Orchards.
The Nainital High altitude zoo
This is an especially good place to visit with kids.The zoo is well-kept with apt. measures to maintain the cleanliness and the animals are healthy.Though, the climb uphill might be a little difficult for the elderly.They do have a shuttle service to take you almost midway across the climb.You can enjoy seeing some Tigers, Deer, Tibetan Wolf and exotic species of birds.
Eco Cave Gardens
The concept of these Garden is that they have tried to replicate the natural habitat of various animals. So, you can go and experience, for yourself the thrill and excitement of having to go through these caves.
P.S: not for the elderly.
Himalayan Center of Sri Aurobindo Ashram
If you want to tranquilize your mind and are looking for a peaceful place to meditate, do check out the Aurobindo Ashram.The place is located in Ramgarh, it is a gem for nature lovers as the view of the mountains are breath-takingly beautiful.Fruit-picking and a large variety of Flowers are the highlights of the place.
Factory outlets for Candles
Nainital is really very famous for beautiful decorative and scented candles. You can check out some fruit shaped ones, decorative ones and even the ones adorned with beautiful Pearls.There are a lot of such outlets on the mall road.
Himalayan Botanical Garden
A nice garden to visit along with kids. There are some beautiful flowers and ferns you can check out and the staff is nice and courteous, they often explain about the stages of life-cycle of a butterfly to kids.
Bara Bazaar
A nice place to get some souvenirs for the folks and kids, back home.You can buy a lot of different gift items from here including: local handicrafts, candles, wind chimes etc.
Khurpa Lake
Not many visitors get to visit this place. There are no arrangements of boating here, though, the place offers some beautiful views and good environment to sit and chat with your friends and enjoy some amazing bhutta and tea, by the Lake side. It is shaped almost like a Khurpa and that is why, the name.
Snow View Point
This place can be reached via a ropeway.This is a good place to enjoy some more views of natural beauty.