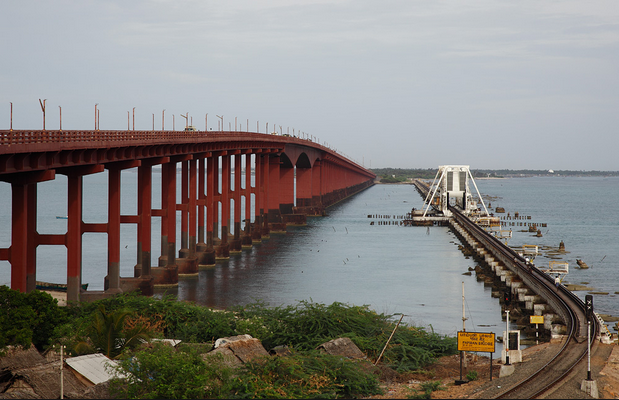 India is one country that offers you a lot of variety in terms of culture, climate, cuisine, technology, lifestyle and even natural beauty.
Here is a list of 11 fantastico destinations in India that you must explore by road
The Pamban Bridge
The Pamban Bridge is a unique kind of bridge called a cantilever bridge.This bridge connects a place called, Pamban, on the Rameshwaram Island to the main state of Tamil Nadu.This could literally be one of the most beautiful bridges, you get to travel in India, a particularly, mesmerizing experience for the bikers due to vast stretch of Blue waters of the Arabian sea around.
Manali-Leh Highway (NH 21)
The Manali-Leh trip is not something anyone can take up.Due to a lot of distance and difficult journey, this road trip surely needs meticulous planning and good health plus lots of stamina.However, the thrill, the adventure and  the natural beauty which you get to enjoy on your road trip is nothing short of pure bliss.
National Highway 212
National Highway 212, is the one which connects Kollegal in Karnataka to Kozhikode in Kerala.The stretch runs through Mysore, which in itself is a must explore destination for it's beautiful city palace.Also, on your way, you would find the Bandipur tiger reserve.If you are lucky, you might get to spot some animals, including majestic Elephants!!
Manali to Chandigarh highway
With a lots and lots of Dhabas on the way, this road trip might be a good experience for foodies.The scenic beauty on the way is awesome, surely too.So, grab your Camera and get going. Manali is a beautiful travel destination for Honeymooners, too and Chandigarh is a happening place for shopping. So, you can be sure that both the beginning and end of your journey shall be fun.
Leh-Srinagar Highway (NH 1D)
Take up this road trip from Leh to Srinagar, via the NH1D to catch some astounding scenic beauty in the colorful lap of nature.
Mahabaleshwar
Mahabaleshwar is one place, you should visit once to experience the simplicity, old-world charm mixed with modernity along with beautiful views of natural scenery.
Kalyan Nirmal Highway (NH 222)
NH222  aka The Kalyan-Nirmal Highway connects the states of Maharashtra and Telangana and might leave you awestruck with it's beauty.
Rohtang Pass
This is a  51 km stretch running from Manali  to the heavenly Leh and the panoramic views of the mountains, you catch there are simply spectacular.
Mumbai-Pune Route
The Pune  to Mumbai Expressway has six-lanes and is one road trip for speed lovers! We do recommend responsible driving, though.
Old Silk Route
The old Silk Route is something bikers would fall in love with.This route connects the, Lhasa in Tibet via to India via the Jelep La Pass. This place is worth appreciating for it's beautiful amalgamation of history, evolution of cultures and natural beauty.
Udaipur to Mount Abu
This road trip is must take for those who enjoy the journey as much as the destination.During Monsoons, the place offers beauty of nature at it's peak.The pleasant weather, natural waterfalls along the road and views of the hills are nothing short of breathtaking.
So, these are 11 places in India which you should make an effort to explore on road!!