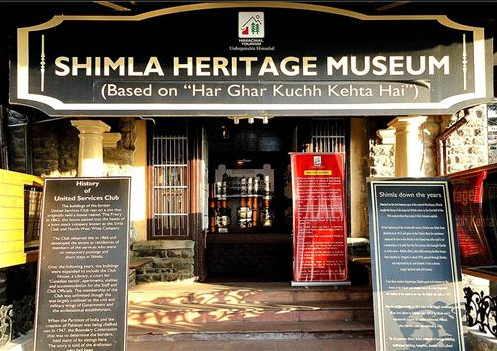 Shimla, the capital of Himachal Pradesh discovered by British rulers; It is famous for rich cultural heritage and tradition. The city has many colonial structures declared as heritage sites. The tourists learn about the past glory of the city by visiting these heritage sites. Some of the heritage sites in the city are Shimla heritage museum, State museum, Army museum, and the rail museum.
Read the post to know more about Shimla Heritage Museum:
The museum is housed in a 120-year-old building previously known as the US club. Renovated in its original form without removing any of the blocks, the museum gives a brief about the united service club.
A room which houses 50 huge portraits and sketches tells the past of colonial period.
The sketches make the elders recollect their old days while taking the young ones to past legacy of Shimla.
Some of the photographs adorning the walls are as follows; Barnes Court, the ARTRAC Complex, Central Telegraph Office, Railway Board,  Gorton Castle, Combermere Bridge, Gaiety Theatre, Town Hall, Post Office, Rippon Hospital, and Viceregal Lodge.
They are presented in black and white; you can see the above in colors to feel of the day.
Some of the rare pictures housed in the museum are:
Vidhan sabha
Central hotel
Dalzells house
Oakover
Nabha estate
Railway line of Kalka and Shimla
The museum visiting hours is from 10 am to 8 pm.
Enjoy your trip by visiting this wonderful Shimla heritage museum, take photos as a souvenir.
In the museum you can get the pictures of old ''Tongas'', the ''rickshaw'', and the living style of British officials.
At present the museum located with limited space. Plans are in the pipeline to expand the space to accommodate more to showcase the rich cultural heritage of Shimla to tourists.  A must place to visit in your tour to explore Shimla.