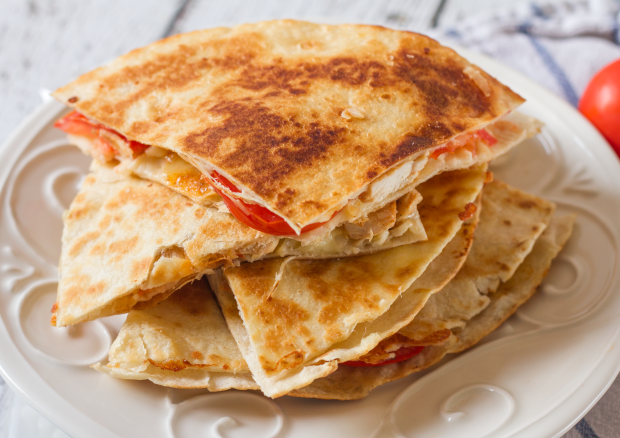 Quesadilla is a very fine dish of Mexican cuisine. Its basic ingredients include cheese and chicken. But as we all are Indian and born creative, little experiments in food are what we have always favored. Traditional way of cooking quesadillas involves tossing them in a frying pan with grilled cheese. You can simply use medium size tortillas as per the serving needs, some shredded cheese, charred onions, colorful bell peppers, some cooked beans and as your ideas. And we are ready on time to show you different and amazing ways to make a quesadilla, note down all of them listed as follows:
Ways To Make A Quesadilla
Fun Frying: Add a teaspoon of your favorite oil in the pan. Once it becomes little heated, place the quesadilla into the pan. Cook it until it becomes golden brown and repeat same for the other side of it.
Baking love: Gaining quite popularity esp. among the health freaks, baking is a new discovery. You require a 350°F preheated oven and are set to make a whole bunch at one time means no flipping. Apply little oil to both the sides of Quesadilla and lay them on the baking tray. Wait for 20-30 minutes as per the size and stuffing and enjoy a cheesy and crispy meal.
Grill fashion: What else can make Quesadillas more interesting even to sound? Grilling! You can now use your loved BBQ for grilling them, heat it to medium-low, same brushing of oil on both sides for glossier look and place over the grill cook both the sides evenly until golden brown.
Panini style: It's been considered by many for being jolly fast method of cooking quesadillas, hence improving cooking time. The only thing is this method of cooking doesn't support finely stuffed quesadilla very well. Or else you can work the way out with half sized ones. What you got to do is place it in the press, simply lower the lid, remember not to press it down, apply the directions of a Panini press. Wait until red light, turn green, and your devouring meal is ready to make you stuffed!