Being asked out on a date is the most beautiful, 'butterflies in the stomach' feeling ever. But right when that feeling passes, I'm sure, most girls are haunted by the thought "what am I going to wear?" It's very crucial to get it right because the outfit you choose gives out a very strong first impression. You can't risk it and you have to look fabulous.
Well, fret not, because what better outfit than a stunning Black dress. So today we're going to share our list of top 20 black dresses that will knock his socks off.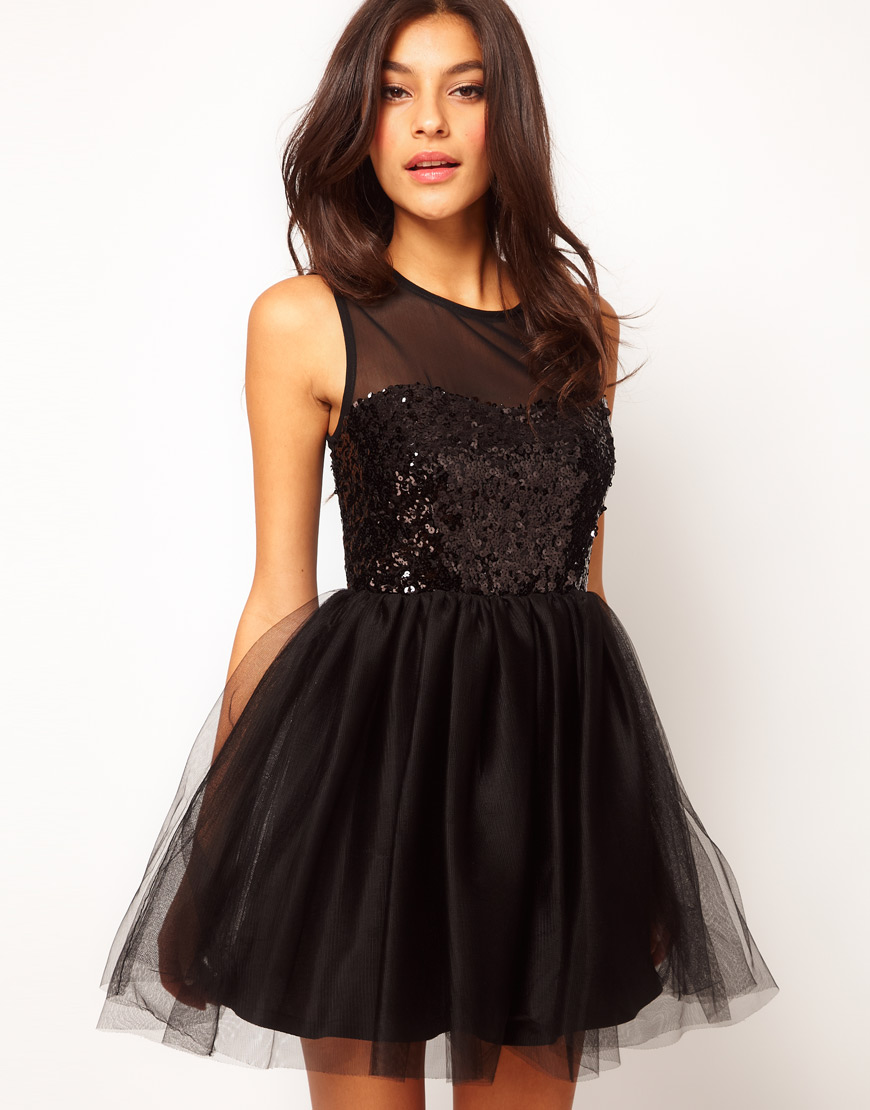 20 Designer Black Dresses For Romantic Dates
Dress #1 – Black is the most flattering color and this strapless dress will give you a beautiful and feminine look. You can match this dress with a pair of your favorite heels and be date-ready instantly. When you don't know where your date is taking you, this is the dress to go for, since it's so versatile.
Dress #2 – This stunning backless lace black dress will be perfect for a dinner date and the cutout makes it even sexier. Since the dress looks playful and sexy, a box or clutch handbag would look really chic along with it.
Dress #3 – A variant of the jumpsuits, this stunning piece will help you keep it cool and stylish on a day date. To play up the look, you can add a jacket or a pair of pumps which will glam up the look.
Dress #4 – He will certainly skip a beat when he'll see you in this lace black maxi dress. Add a pair of simple earrings and a statement bracelet to keep up the look. Since the dress is so stunning, keep the accessories minimal.
Dress #5 – You can redefine your black style statement with this stunning net dress and play it up or down by throwing in some accessories. However for a date night, just a watch and long chain necklaces would keep the dress in the spotlight.
Dress #6 – This beautiful full sleeve black dress sported by Selena Gomez will be perfect for an evening date. To glam up the look, you can add a collar necklace since the dress is plain. Throw in your favorite pair of heels and you'll be good to go.
Dress #7 – The gorgeous neckline and the pattern of the dress screams sexy yet elegant. Keep the dress in highlight by adding minimal accessories. A simple bracelet and an envelope bag would be perfect to go along.
Dress #8  – A cute cutout bodycon dress like this will help you grab his attention all night. Since the dress is so stunning, you can get away with just a handbag and a bracelet.
Dress #9 – This girly lace dress will make you look feminine yet classy at your date. For a more elegant touch, you can put your hair in an up-do and do a smokey eye with a neutral lip.
Dress #10 – When you're not sure about the place that you're going to, this black A-line dress will come as a savior. Keep your hair in a side braid or an up-do to show off the back lace spliced cut-out. Wear a pair of ankle heels to go along with it.
Dress #11 – This dress will definitely make you look all cute and adorable like Aria from Pretty little liars. If you want to spice things up, wear a cherry red on your lips with a winged eye. An envelope or a clutch bag would be perfect to carry with it.
Dress #12 – This high neck dress can be worn to a day as well as a night date. Just throw in a pair of hanging earrings, your favorite heels and you'll be good to go. For a more elegant feel, you can wear your hair in an up-do.
Dress #13 – Maxi dresses give you a very feminine look but with this high leg cut, it'll make you look edgy as well. However choose this dress wisely since it's an extremely sexy dress, so you don't want to be over-dressed.
Dress #14 – This mesh black skater dress will be perfect for a date at a classy place. Keep your makeup in place with soft brown smokey eyes and a shade of red lips. You can add a choker necklace along with a clutch bag for a night look.
Dress #15 – This high waist halter neck dress will make you look adorable and sexy at the same time. Pair with up with a pair of heels and he won't be able to get your sight off his mind.
Dress #16 – The beautiful gradient on a plain black dress adds a touch of glam to it. If he's taking you to a really elegant place, this is the type of dress you should pick. Put your hair in a side messy bun and you'll be all date-ready.
Dress #17 – The sexy cutouts on this cute skater dress makes it perfect to be worn at a night date. Now don't go overboard with the accessories, a pair of simple earrings would do.
Dress #18 – This high low maxi dress is extremely versatile and can be worn up or down by keeping your hair in an up do or letting them open. Pair this dress with high heels for a night look.
Dress #19 – This two piece dress with a crop top and a circle skirt can be a very versatile dress. Glam it up with a Peter pan or any other collar necklace and a pair of high heels. Style your hair with open voluminous curls and you'll be all date ready.
Dress #20 – Last but not the least, this high neck dress with a touch of leather screams sexy as hell. It will give you the perfect amount of edginess when sported with hanging earrings and a bracelet. Carry a tote bag or an envelope bag to go along with it.