Hey ladies, just like each one of you, I too have my own share of bad hair days!! Here is my little hair woe that bothered me for a long period of time.I have a strange problem of oily scalp with drier ends so, each time I shampoo my hair while I totally feel happy with no greasiness on my scalp and hair on the crown, I do feel a definite need of moisture along the length of my hair.No matter what conditioner, I tried, the ends of my hair looked dull and lifeless.A cousin suggested me to incorporate a serum in my hair care routine in order to tame the dryness.On her personal experience, she suggested Livon and thank god for that!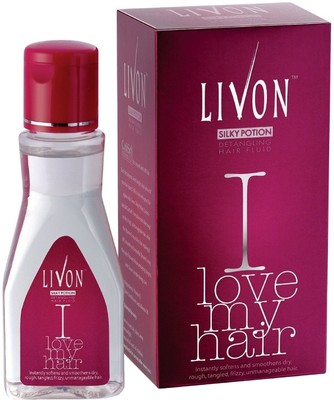 Livon Serum – Lustrous Hair #Salonnahilivon.
I have been using the Livon hair serum for a fortnight now and am totally loving it because, for one, it has markedly reduced my hair fall which happened due to all the ends getting tangled after hair wash and towel drying and secondly, it infuses moisture into dull ends without making my hair feel greasy or limp.It is quite easy-peasy to use and needs to be rubbed gently on damp hair after towel drying them.
I do like styling my hair straight on some days and curling them into soft beach waves on some other days,I found that whenever I apply Livon pre-styling with any form of heat such as dryer or Straighter, the hair style turns out much better and the hair still look shiny and lustrous.So, in a way, Livon acts by protecting your hair from both the environment and heat styling.You can totally skip that pocket-pinching visit to the Salon for simple hair styling and can very well do it right at the comfort of your home using Livon serum! So, next time you got a family dinner to attend, remember, #Salonnahilivon.
Finally, here is a good news announcement, you can win a hamper from Livon by following these simple steps:
Subscribe to my blog at thesplendidlifestyle.com
In the comments section, tell us why you wish to win a gift hamper from Livon
Like the Splendid lifestyle Facebook page
Share the post with hashtag #Salonnahilivon in Twitter and Tag @apsaramishra and @

LivonSerum
Prize:
One lucky winner will get exclusive hamper from Livon. So what are you waiting for, enter in this giveaway..
Contest Ends:
Due to good response we had extended this contest till 15th of September 2016 midnight. Earlier it was till 12th September 2016 at mid night – 12 Am
All The Best 🙂
Winner Will Be declared soon, Stay tuned and one more giveaway coming soon.