Hello to my lovely readers out here at my website 🙂 ,how has life been? So, being forever enthusiastic for trying out different types of skincare products, I stocked up on a couple of beauty essentials last weekend. Amongst, a lot of other stuff, I also picked this Biotique Bio Walnut Purifying and Polishing Scrub. I have always like Walnut beads in scrubs more than the kind of scrubs that are too mild to use.
Biotique Bio Walnut Purifying and Polishing Scrub Review
For those of you who do not know, Biotique is a famous and established brand of organic and nature-friendly skincare products in India. The prices of the products are not insanely high and their entire range uses recyclable plastic. Let us read on below to know about this product in further details…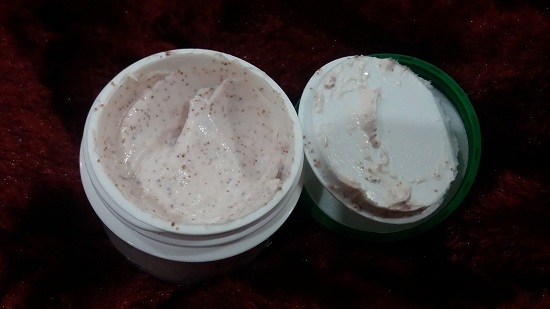 Product description of  Biotique Bio Walnut Purifying and Polishing Scrub
This scrub claims to help those who have an oily and acne-prone skin and is ideal for unisex usage.It contains potent extracts of Neem and finely crushed Walnut shells.The formulation is very creamy and does not strip off natural moisture from your skin.
Directions for Use
Use this face scrub by gently massaging it on wet face that has been washed with a face mask. After scrubbing, it can be left on the skin as a hydrating mask.
Packaging
It comes enclosed in a brightly Green coloured cardboard box. The product is contained in a tub which is White and has a White lid, too. The cap needs to be rotated to close and is Forest Green in colour.
Price:
199 for 50 gms of the [product, which is quite affordable
Texture
Creamy base with finely crushed Walnut shell scrub beads.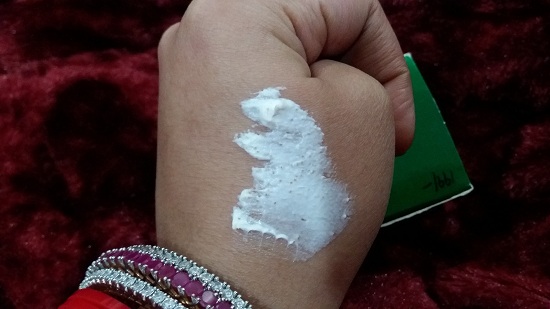 Key ingredients
The detailed list of ingredients has been mentioned on the packaging of this scrub: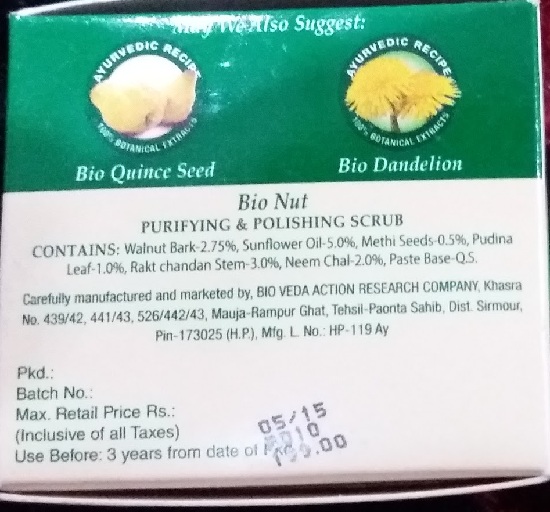 Neem, Nagkeshar, Pudina, Walnut, BeesWax Vitamin A, Fenugreek, Red Sandalwood and Himalayan Water.
Pros of Biotique Bio Walnut Purifying & Polishing Scrub :
The packaging is lightweight, spill proof and travel safe because of tightly closing cap and unbreakable plastic.

Neem fragrance predominates out of all the notes but the fragrance is not bitter and is in fact herbal and quite refreshing.

It is a chemical-free formulation that can be used regularly without loading your skin with too much of chemicals.

The product is not too mild but is not harsh on skin either. It is good enough to be used twice or thrice in a week.

Unisex product that works well for all skin types and is especially good for oily and combination skin types.

Does not cause breakouts.

Vitamin A, Fenugreek, Red Sandalwood all of these are safe and herbal ingredients.

Regular use helps to unclog pores, remove dead skin cells and  give your skin a healthy glow.

Product has been  tested safe by a team of dermatologists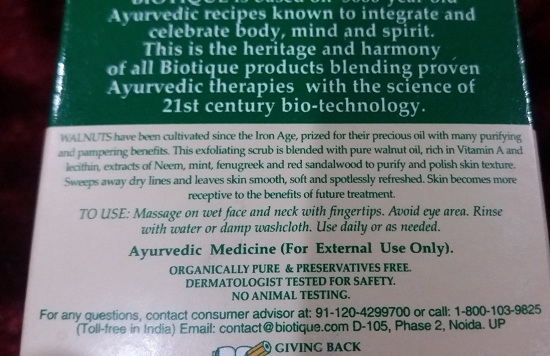 Cons of Biotique Bio Walnut Purifying and Polishing Scrub :
It does not help much with already formed whiteheads and Blackheads.
My experience with Biotique Bio Walnut Purifying & Polishing Scrub
Biotique Bio Walnut Purifying and Polishing Scrub has a creamy texture and is quite easy to massage on wet face in circular motions. It rinses off easily. It is your wish whether you want to leave it over your face after scrubbing or not. It has a pleasant smell and your skin looks very clean after using it.
The beads do not feel too gritty on skin since they have been rounded very nicely. I use it twice a week to remove fresh tanning and dead skin cells.
Ratings
4/5
Whether I would recommend this product again?
Yes, I can safely recommend it to people with all skin types except sensitive because of herbal ingredients and no skin irritation caused by using this product. Sensitive skin should steer clear and go for a slightly milder type of scrub beads.