Hey readers! How have you been doing? If you are an avid viewer of net series, you must be already aware about Amazon prime video. This year Amazon Prime launched its latest thriller, Amazon Original series, "Breathe". The first Amazon original released in 2017. The "Inside Edge" was related to politics and machinations in the world of cricket. This year Amazon Studios launched their second Indian show, Breathe that is streaming on Amazon Prime Video.
Breathe – An Amazon Original Series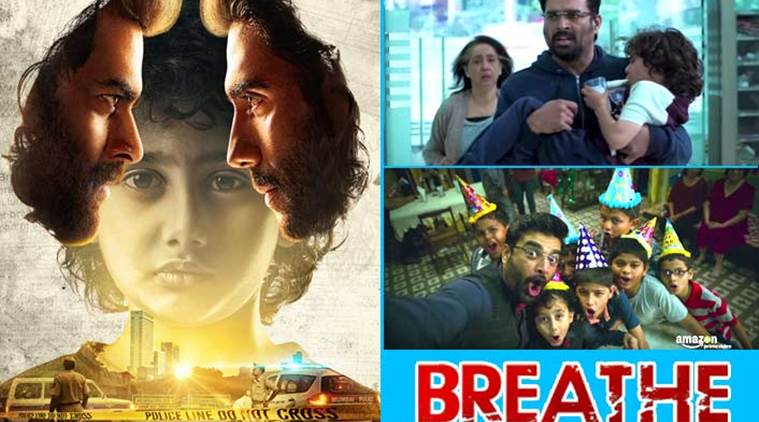 Breathe is an Indian drama that explores the life of an ordinary man faced with extraordinarily harsh circumstances. This Amazon Prime Original Breathe, is produced by Abundantia Entertainment. The trailer itself gives a fair idea about the story. Our favourite R. Madhavan is the lead actor of this series. Though you can get the rough idea of the plot but still there is a lot that will keep you hooked all through.
Breathe has been directed by Mayank Sharma. It is an eight-episode psychological thriller that tries at exploring just one question – How far can someone go to save a life? The run time of each episode is roughly 40 minutes. This Amazon Original series is being released in three different languages Hindi, Tamil and Telugu, across the globe in over 200 countries. It has created a storm amongst viewers on across all platforms because of its intriguing story line and refreshing content. Breathe has been much appreciated and accepted by the audiences and has been hailed by the critics, as well. The story is gripping and has managed to captivate the viewers throughout.
Madhavan has managed to break his typical, chocolate boy image quite well with this Amazon original series. You will no longer recognize him as the Coy lover boy from RHTDM or the innocent Manu Sharma from Tanu weds Manu. In breathe, R.Madhavan plays Danny Mascarenhas, a widower and a doting father to six-year-old boy named Josh. Josh is suffering from a fatal disease and needs lung transplant on an urgent basis since he only has a couple of months in hand to live. The poor Danny could either wait for 6 months patiently for a compatible and willing organ donor and watch death slowly crawl near his boy or do something else to move Josh up on the list of Organ recipients!
Madhavan comes up with a plan to kill the organ donors in order to save the life of his son. He uses methods that fail to arise any obvious suspicion of a murder. While, the heart of this drama series is definitely R.Madhavan, it will be unfair not to give due credit to all the other actors because of their amazing work. Each and every actor in this Amazon original manages to deliver nothing short of a nuanced performance, no matter if their role is peripheral or integral.
On a parallel track, there is Amit Sadh who plays the role of Kabir, a twisted and alcoholic investigating officer of the crime branch in this Amazon Original. Kabir is juggling between various personal tragedies as well. The ways he uses for investigation are atypical and unconventional. He uses his skills and instinct to use in order to put the pieces together and manages to find a link between the seemingly unrelated series of deaths that lead up to a very unlikely suspect-Madhavan!
Besides, these two dominant characters, Breathe also have a competent supporting cast of actors including Atharva Vishwakarma, Sapna Pabbi, Hrishikesh Joshi and Shriswara.
After watching a couple of episodes myself, I can confidently say, it is a one of a kind, nail biting thriller that has aired in India so far. When I picture myself in a similar situation, I see myself doing something similar to Madhavan because as they say, desperate times, desperate measures! You can't help but feel sympathetic towards the father who loves his son beyond all logics and limits.  Madhavan's initial image has been portrayed to be that of a gentleman who works as a football coach and has earned the respect of numerous students and their parents. It takes some getting used to the transition in his character as he turns into a insensate murderer. This one surely deserves applause and I pursue my lovely readers to watch this series and encourage more of such shows on a digital platform. As parents, all of you will be able to relate to the pure love a father has towards his son regardless of the path he chooses to save his little one!
The Indian audience is already exposed to and fond of some international, digital shows Breathe Amazon Original will be a complete entertainment for them. They can watch it episodically or like a binge. Digital series are very convenient and affordable for the audience as opposed to watching movies in theatres or even watching T.V serials that require a fixed time commitment. You can watch digital series on the go! So, the concept of Amazon investing in original series in India is a smart and welcome step. Amazon Studios' have shown a willingness to experiment with Indian content which is something we are proud of! The annual subscription of Amazon Prime video is INR 999 per year which has been recently hiked but considering that you are getting more than just videos in their subscription like: additional discounts, exclusive deals on products sold on Amazon, it is totally worth it!
So, people if you have already subscribed to Amazon Prime and are watching Breathe, do let us know how you love this series in the comments section below, we are all ears!!