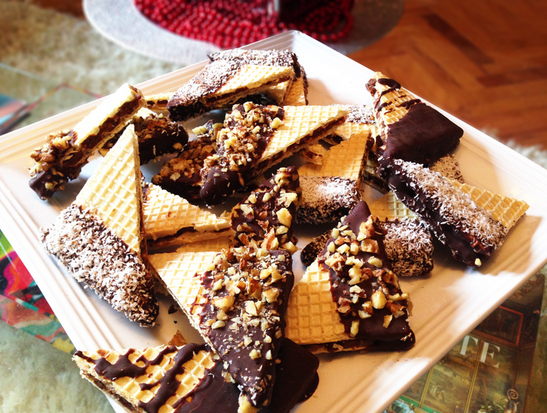 Don't you just LOVE no-bake desserts? It's almost like cheating when it comes to baking! These homemade chocolate dipped wafer cookies sprinkled with coconut, and nuts, are so easy to make and completely customizable. If you want to make these for Valentine's Day, simply swap the nuts for pink and red sprinkles. You can also alter them for Christmas, and use red and green sprinkles. Your options are only limited to your imagination!
Chocolate Dipped Wafers With Nuts
For Chocolate Wafers
200 g powdered sugar
400 g unsalted butter at room temperature
4 wafer sheets (store bought)
80 g dark cooking chocolate
400 g Petite Beurre cookies (crushed into tiny bits)
80 g raisins
4 eggs
2 tbsp. rum
To Decorate
Dark cooking chocolate
Butter
Oil
Chopped nuts
Shredded coconut
To Make Wafer Cookies
Mix eggs and powdered sugar in a pot of a double boiler. Add chocolate and butter and heat on a double boiler until it turns into the consistency of pudding.
Remove from cooktop and mix it with rum, raisins and crushed cookies.
Evenly spread the mixture over one wafer sheet and place another sheet on top. Press as hard as you can with a heavy object such as a large wooden cutting board. Transfer to freezer to chill for a few hours.
Once chilled, remove from freezer and cut into wedges or rectangles.
To Decorate
Melt chocolate in a double boiler, add a little bit of oil and butter and keep mixing until the blend becomes pourable.
Dip wafers into chocolate and then sprinkle walnuts or coconut on them. Keep them on a baking sheet creased with parchment paper and back in the freezer to chill.
Once wafer chocolate has hardened and the cookies are chilled, they are ready to eat!
Swap your nuts and coconut for any sprinkles in the color of your choice! Go ahead and indulge yourself in this delicious desert.