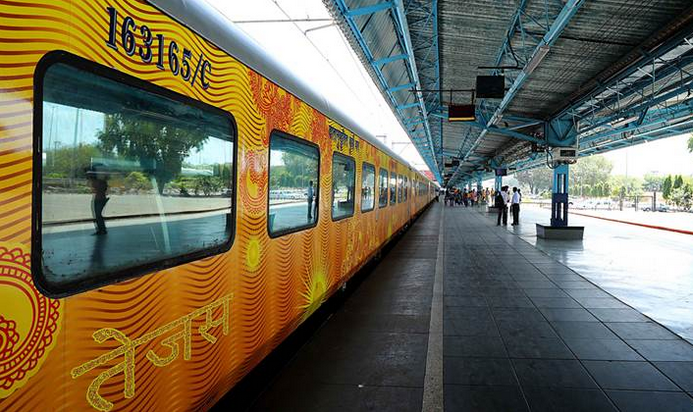 All these years in our journeys on Indian Railways, we have hoped for WiFi, on-board entertainment, faster speeds, cleaner lavatories and a lot more. Finally our dreams have come true! Step into the newly-launched Tejas Express through automatic doors, sip freshly brewed coffee from its beverage machines and track your route with the GPS-enabled information display system.
Interesting Things About India's New Smart Train #TejasExpress
What Are the Routes Tejas Express Will Run Through?
Anand Vihar Terminal – Lucknow Junction Tejas Express: 6 days a week
Delhi – Chandigarh Tejas Express: 6 days a week
Mumbai CST – Karmali Tejas Express: 5 days a week
What Are Some of the Key Features in Tejas Express?
WiFi
On-board Entertainment
Bio-toilets (with touch-less water taps)
Hand Dryers
Tea/Coffee Machines
Braille assistance for the visually challenged
GPS-based information display system
Fire and smoke detectors and alarms
Charging points and USB cable points
What is the Speed of Tejas Express?
Tejas Express will run at an average speed of 130 km/h. Yes, it will be faster than Jan Shatabdi Express.
How much is the Seating Capacity?
It has one executive AC chair car with 56 seats, and 12 AC chair cars with 78 seats each.
How Much Does It Cost?
Roughly 20% more than Shatabdi Express, as it is being said. The fares vary as per your destination, but what we know so far is that a complete journey for the AC executive chair car costs about INR 2600 with food, and INR 2500 without food.  For the non-executive AC chair car, the fares are INR 1200 with food and INR 1100 without food.You also have an option of on-board catering services as well.
The First Train from Mumbai to Goa was flagged off from Mumbai by Railway Minister Suresh Prabhu on Monday, 22nd May 2017 at 3:25 pm.
I am excited to travel by this super fast train, What about you?