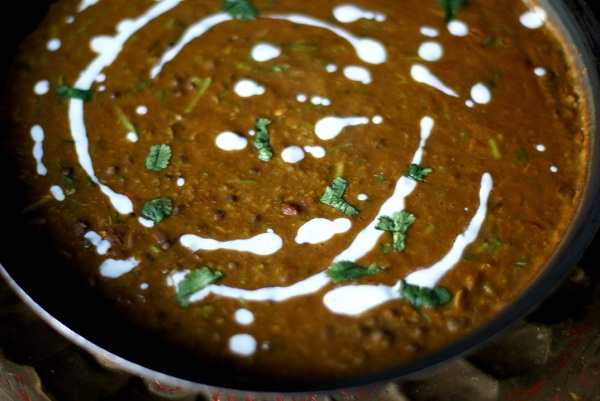 Dal Makhani has been liked by many of us as it is nutritious and suits our taste buds. This Indian cuisine is very simple to make. The following is the simple recipe to make dal makhani for your loved ones:
How to make Dal Makhani at home:
Serve – 4
Ingredients to make Dal Makhani at home
Whole black gram – One cup
Red kidney beans –  Four tablespoons
Garam masala powder – Two teaspoons
Tomatoes – Four
Green chillies- Four
Onions – Three
Garlic – Eight cloves
Cumin seeds – One teaspoon
Oil –     Two teaspoons
Butter – Five teaspoons
Salt as per the taste
Fresh Cream – Two Tablespoon
Method to make Dal Makhani at home:
Take the mentioned whole black bean grams and Red kidney beans in a container and add 3 cups of water to it. Soak it overnight. Soaking softens the proteins in the dal and the cooking time can be saved. Take off the extra water in the morning and wash it twice or thrice for all the dirts to be out. Place the ingredients in the pressure cooker and once again pour 3 cups of water to it. You can add the salt and chilli powder to it as mentioned in the ingredients. Place it on the gas and switch it off after 3 whistles of the pressure cooker. Do not take out the steam immediately after switching off the gas. Wait for few minutes. Just buckle off the pressure cooker and it will automatically open once the gas is out naturally. Check the ingredients have softened up. If you feel they need some more time on the flames, just place it once again on the gas and lower the flames.
Meanwhile, chop the onions, garlic and ginger. Heat the pan and pour the oil in it. Once it has warmed up, add some cumin seeds. Add the chopped onions, garlic and ginger in the pan once the cumin seeds are brown. Stir it till your nostrils can sense the wonderful aroma of these. You can add chopped tomatoes and chopped chilies for a spicy taste. Add garam masala to it. Add some more salt to it if you feel it is lacking in salt. Stir them together. Do not add turmeric to it as Dal Makhani is never yellowish in colour unlike the normal dal. Let this blend well for few minutes on the flame. Now add the boiled whole black bean grams and Red kidney beans from the pressure cooker to the pan. Add some pour water if you find it thicker. Let the dal be cooked for some more minutes. Nice blend fresh cream in bowl and finally add it to your dal and cook it for 5 minutes. Add some cubes of butter to it to get the desi punjabi taste. Serve it hot once they are completely blended and soft. Add lemon if you wish to.
Tips:
After adding fresh cream dont cook daal for more then 5 minutes.
Instead of lemon to give tangy taste, you can add half tbsp of dry mango powder as well along with fresh cream.
Friends, did you enjoyed reading my recipe? Its easiest and simple way to make Dal Makhani at home. Serve hot dal makhani along with Tandoori or Tawa Paratha and Raw Onions. Do give feedback…