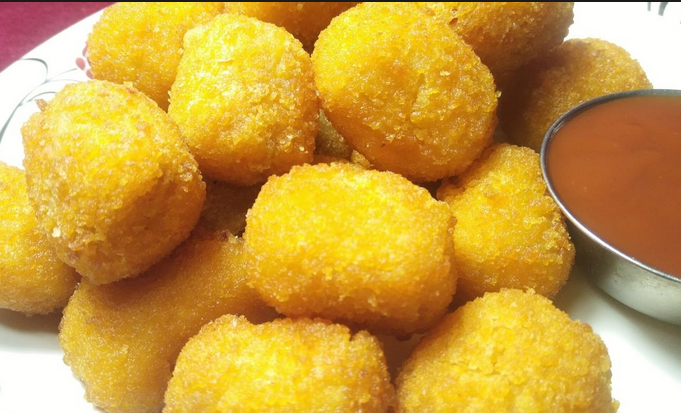 Now surprise your guests with homemade crispy veg nuggets by following this easy and flexible recipe. Veg nuggets can serve as an appropriate starter for your guests. The ingredients that you need to make this delectable item are mashed potatoes, fresh green peas, grated carrots, minced capsicum, garlic paste, oregano, pepper, red chilli powder, parsley or coriander leaves, grated cheese, rice flour, bread crumbs, cornstarch, salt, oil and dried herbs according to your choice.
Make Restaurant Style Crispy veg nuggets
At first, take a blender and grind one cup cooking oats. You need to pulse it until it gets a mushy texture. If you are unable to arrange cooking oats you can use leftover bread instead. Then take a pressure cooker or a steamer and boil some medium-sized potatoes and some green peas. Then take a potato masher and quickly mash the warm potatoes. If you do not have a potato masher, you can mash the boiled potatoes with the help of a fork.
Now you need to mix the steamed peas, grated carrots, and minced capsicum with the thick potato paste. You need to blend it well. Add all the spices and dried herbs in it. Add salt to taste and stir well. Then blend the cornstarch with grated cheese and oats in order to prepare a batter. Take another bowl and add rice flour with water in order to make a smooth paste.
Take a little portion of the potato mixture and prepare your desired shape nuggets. Then dip the nuggets into rice flour mixture at first and then you need to wet these into the batter made of corn starch. Now dust these nuggets with the help of bread crumbs. After preparing all the nuggets, you have to keep them in a refrigerator for 40-50 minutes. In the meantime, take a grill pan and heat oil for 1-2 minutes.
Now fry the frozen nuggets until they look crispy brown. Now your crunchy restaurant style veg nuggets are ready. Serve them hot after garnishing it with coriander leaves. Overwhelm your guests with these mouth-watering veg nuggets and they will treasure the taste forever.