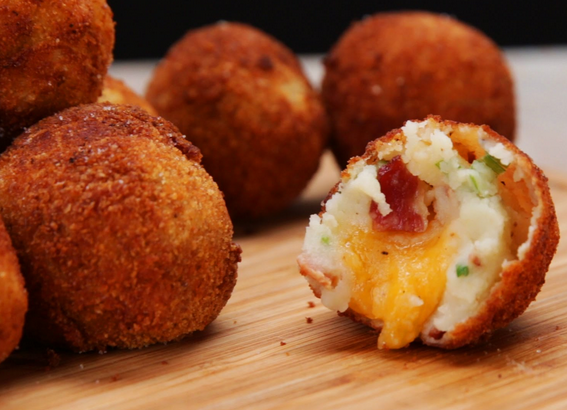 Crunchy golden ball of deliciousness loaded with goodness of mashed potato on the inside. This combination is extremely difficult to resist. At the same time, it is difficult to visit restaurant for all the times you have a craving for it. Hence, here is a restaurant style recipe which you can make at your home and enjoy. Following are the ingredients that you need for the recipe.
Restaurant Style Mashed Potato Cheese Bites
Ingredients
A pouch of mashed potatoes which are flavored roasted garlic
2 tablespoons of butter
½ cup of milk
3 slices of bacon
¾ cup of cheddar cheese (shredded)
A large egg
2 tablespoons of snipped chives
1 ½ cup of bread crumbs
4 cups of vegetable oil
Method
After accumulating the ingredients, you need to start with the cooking process. Following are the directions that need to be followed.
Firstly, you need to cook the mashed potatoes in accordance with the directions given in the packaging. Use milk and butter for this. When the potatoes are done, let it cool.
Then render the bacon until it turns crispy. Set this aside on the paper towels while crumbling into bits.
Combine the cheese, potatoes, egg, bacon bits and chives in a bowl. You need to mix in completely. Roll the mixture then into balls of 1 inch. Then you can toss the panko till it is completely covered. Then you can set it aside on a serving plate for resting up to 15 minutes.
After this, you need to heat oil in a wide large pot. When it is hot enough, you need to gently drop the balls in the hot oil while frying till it is golden. This needs to be continued in batches while setting it aside on the paper towels for draining.
Lastly, you can garnish the dish using chives and then serve immediately.