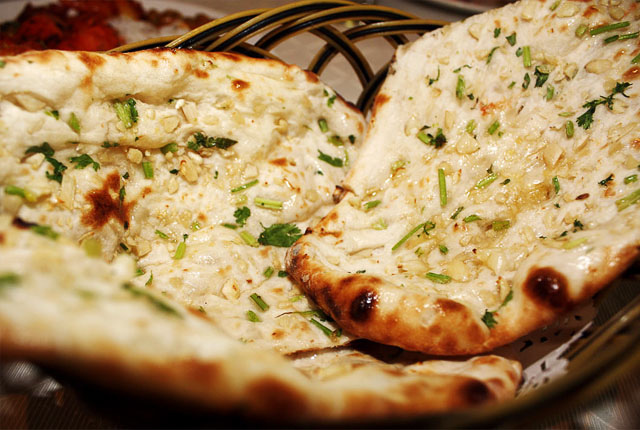 Garlic Naan is most sought after by each and everyone who has ever wholeheartedly tried Indian food. Among million Indian Cuisine Lovers, this Indian bread is heart-throb of many families. In every Indian Eatery, the restaurant style Garlic Naan is ordered t be served big or small. You can also make restaurant style Garlic Naan at home.
Make Restaurant style Garlic Naan
How to make Naan dough?
In a bowl take 1/3 cup of lukewarm water.
Mix dry yeast, sugar and salt.
In the warm water, stir till the yeast dissolves.
Keep aside for 5 minutes in order to activate yeast.
In another bowl take plain flour (Maida) and activated yeast water plus add yogurt and milk.
Knead into dough.
Cover the Naan dough with a moist kitchen towel and rest for 1 to 1.5 hour.
The dough will double as the yeast activates.
Once ready divide the Naan dough into equal size dumplings
At home, how to make restaurant style Garlic Naan?
Initially peel off the garlic. Then finely chop it and keep aside in a plate.
On a dusted board, take each Naan dumplings plus with hand stretching the dough in Naan shape or roll into Naan using rolling pin.
On Naan, sprinkles finely chopped garlic and with rolling pin press it in Naan.
Turn on the stove
Keep tawa to preheat.
Place the Naan on the tawa.
Turn the Naan to other side
Apply water using hand.
Place the Naan on hot tawa garlic side up and wet side down.
Do gently press with hand in order to stick in on tawa.
On high flame, cook for One minute.
On flame move the tawa carefully in order to cook Naan evenly.
Here is your restaurant style Garlic Naan. With Punjabi curries such as matar paneer, palak paneer, etc, serve garlic Naan hot.