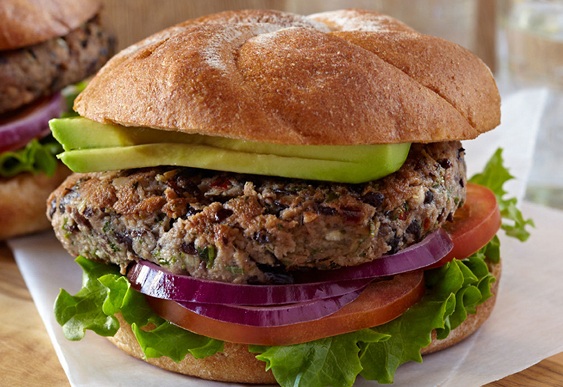 Each and every one is mad over irresistible mouth-watering Black Bean Burger. Now you can enjoy the toothsome bite of a Black Bean Burger at home by following certain effortless steps. The ingredients that you need to prepare this black bean burger are black beans, sliced green or yellow bell pepper, yellow onion, oregano, peeled garlic, chilly powder, basil, cumin, pepper, bread crumbs, egg, hot sauce and salt.
Make Restaurant Style Black Bean Burger At Home
At first, you need to take grill pan and preheat it high or medium heat and take aluminum foil sheet by oiling it lightly. Then mash the drained black beans with a help of a fork until they get sturdy and pasty. Then take a food processor and place all the sliced bell pepper, garlic, chopped onion and mix the mushy paste of mashed beans with it. Stir well. Take a separate bowl and mix the egg, hot sauce, cumin, chilly powder, oregano and salt. Then blend the mixture of egg with the beans paste and stir well. Now you need to add bread crumbs to it in order to make it sticky. One full cup of seasoned breadcrumbs is enough to fetch a little texture in the mixture.
When the mixture would hold together you have to split it into five or six patties according to your wish. Then put these patties on aluminum foil and grill it for 8-10 minutes but make sure both sides of these patties must be grilled. You can also bake it with the help of baking sheet and then also you need to bake both sides of those patties for 10 minutes. Then take some grilled buns after spreading hot sauce and mayonnaise in it and put the patties between the buns.
Add lettuce and basil on the top for garnishing. Now your restaurant style black bean burger is ready to serve. The punchy flavor and rich texture of this black bean burger would surely win the hearts of your guests.