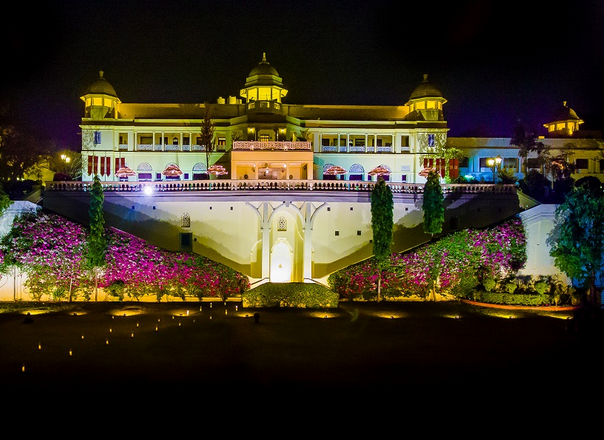 Hey lovely readers,
In this article, I will be talking in brief about one of the most memorable trips of my life to the city of Lakes in India.Yes, you are right, we are talking about Udaipur!! Rajasthan is one state that has so many picturesque locations. So far, I have been to Pushkar, Rathambore, Jaipur, Jaisalmer and Udaipur and not even one trip has been disappointing because Rajasthan always welcomes you with it's mouthwatering cuisine, colorful markets, grand palaces and lots of tales of History!!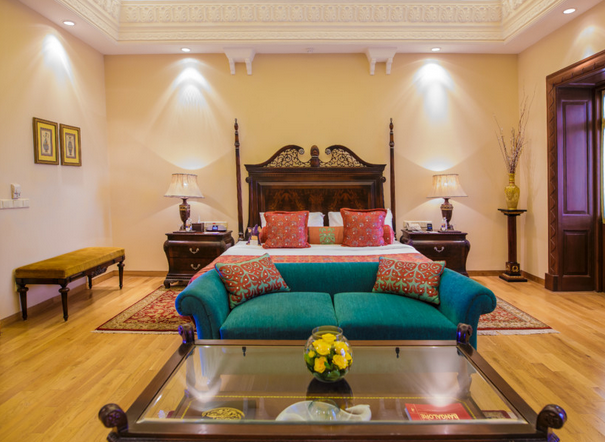 My Luxurious Stay At The Lalit Laxmi Vilas Palace – Udaipur – #MMTLuxuryStays

The Udaipur trip is especially close to my heart as this is the first part of Rajasthan that I visited with my husband and he took all the pains to ensure that our stay was comfortable and Luxurious.We stayed at The Lalit Laxmi Vilas Palace at Udaipur that stands adjacent to the Lakeside of Fateh Sagar lake. The view from the main entrance is splendid as you can see widespread greenery and the beautiful Fateh Sagar lake.The city lights reflecting in the night in the Lake's water leave you awestruck!! The hallways and Lobby of the Hotel are amazing too and give you quite a flavour of Mewar with huge Murals adorning their walls.The flooring has mostly been done in exquisite Marble that spells Luxury.
We booked a suite with The lalit Laxmi Vilas Palace which had a double bed, a study, LED television, Air conditioner of course and a lavish bathroom with tub and hand shower. What I particularly liked was the fact that they kept the room very Rajasthani themed.The upholstery was done in traditional Rajasthani Prints and motifs and strong colors like Orange, Rust and Golden to balance out the Beige walls of our suite.They also has wall hangings of Shree Nath jee.For those of you who do not know, Shree Nathdwara is a pilgrimage near Udaipur which is visited by many devotees throughout the year.
After a long journey to Udaipur from Delhi, sinking in a tub full of warm water was a relaxing experience.They made bath and body products from Kronokare, a luxury Ayurvedic brand available to us. The Dining hall is spacious and offers buffet for all the three meals. The breakfast was included in our stay and was sumptuous with fresh juices, canned juices, all sorts of sandwiches and Indian delicacies at well.The staff was courteous and attentive. Among all food I loved Dal, Bati Churma and Chinese noodles a lot.
In the evenings, they arrange live music, Live dances and Puppet shows on most days.So, you get a slice of Rajasthani culture, right at your hotel.When we returned back to our room after enjoying the puppet show, there were two yummy complimentary cupcakes waiting to tickle our taste buds in our room!! Other convenience facilities like sockets to accommodate international chargers, electric kettle, complimentary tea and coffee etc were also available.
Early morning next day, we went to the Green grounds in front of the hotel that run all the way down to the Lake. You may enjoy some quite time or Yoga over there.There is an in-house Spa and free to access Gymnasium.You can also request for a city tour at a very basic cost.The chauffers were good at speaking both Hindi and reasonably good English and can show you around Udaipur and even take you to emporiums for shopping.
So, all in all The Lalit Laxmi Vilas is a package which offers hospitality, natural beauty, luxury and entertainment.
"I am blogging about my luxury stay experience for an activity at BlogAdda in association with MakeMyTrip"