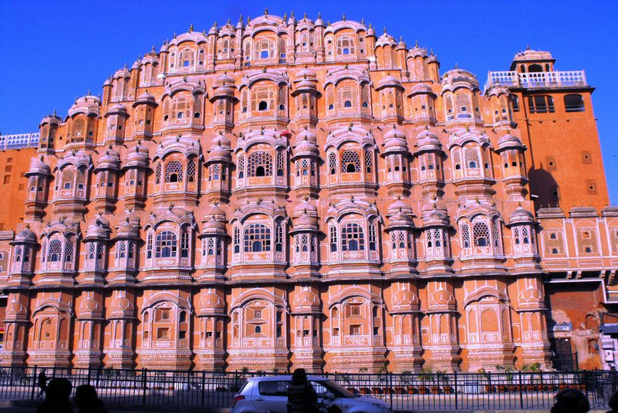 Rajasthan, The name itself generates so many imaginations in one's mind. When anyone thinks about the Rajasthan, moving camels in a desert of Jaisalmer, Lakes of Udaipur, Unique culture, Kalbeliya dance, old forts of Jaipur can strike to his mind. Rajasthan means uniqueness and slide show of all these will generate in someone's mind by the word Rajasthan. Rajasthan produces so many brave warriors and its history has so many battles fought for its independence. Maharana Pratap was only the king who never gave up to the Mughals. Rajasthan is a mixture of it's old culture and the new culture. The old culture is not just about the clothing and languages but respect for guests and their hospitality can be seen in every person of Rajasthan which is an important part of its culture. Three famous cities will always come to the mind when anyone talks about Rajasthan which are Jaipur, Jaisalmer and Udaipur.
Rajasthan – The Best Tourist Places of India
Udaipur- City Palace Night View from Lake Pichola
Jaipur is the heart of Rajasthan and it's also the capital of this state. It is also called pink city because all its old buildings and markets are of pink color. Jaipur is now a metro city. The famous things of Jaipur are its unique dishes, forts, its history, its special people and its pink color.  Jaipur is the well-maintained city of Rajasthan. The places one should visit in Jaipur are Hawa Mahal, JantarMantar, Jal Mahal, Sheesh Mahal, Birla Temple and City Palace of Jaipur. One should also visit the old streets of Jaipur to know the city more. The famous dishes of Jaipur are Daal Baati Churma, Laal Maas, Kachori and Ghevar.
After Jaipur, Jaisalmer has most unique culture and it is famous for its deserts. In Jaisalmer camel ride is most common and camel is also called ship of the desert. Jaisalmer has the least population in Rajasthan. The tourist places in Jaisalmer are Jaisalmer fort, PatwonkiHaveliyan, Jaisal Art Gallery, Desert Culture Centre and Rani ka Mahal. Desert festival is the most amazing festival of Rajasthan which is organized by Rajasthan Tourism every year in Jaisalmer. Many tourists come from India and outside of India to take the joy of the festival. This festival has many fun activities like camel racing, dancing, singing etc. Jaisalmer is most unique for its clothing. Ladies wear the old Rajasthani cultural clothes and gents also wear the turban on their heads. Ker Sangri and Tandoor roti are most famous dishes of Jaisalmer.
Jaisalamer Fort
Udaipur is the next most popular city of the Rajasthan. Udaipur is one among the most beautiful cities in the world. It is also known as the Venice of east. It looks very beautiful because of its lakes. Udaipur has many beautiful lakes and that is the reason behind Udaipur known as Lake City. This city has the most amazing history because no one could rule on it. Udaipur was always independent because of great warriors like MaharanaPratap. The tourist places here are most amazing which are FatehSagar Lake, Lake Pichhola, AmbraiGhat, City Palace, Moti Mangari, GulabBagh and every place has a unique history. Anyone who is visiting Rajasthan cannot miss to visit Udaipur. People of Udaipur are very good at hospitality. Udaipur and Chittorgarh are also known as Mewar which is the famous name in the Indian history.
Apart from these three cities, Rajasthan has so many amazing places like Jodhpur, Ajmer, Kota, Rajsamand and many more. Every city of Rajasthan has it's unique history and unique people but you will find everyone friendly who do warm welcome of their guests. Visiting Rajasthan once in a life can give a delightful lifetime memory.