Model makers, Delhi a reputed modelling firm that has groomed and trained many aspiring models in Delhi NCR. Goeventz.com and Model makers have joined hands to bring to you the most exciting event of the year. We are talking about the season 38 of the Portfolio shoot with none other than, he handsome hunk, Rannvijay Singh. Rannvijay needs no introduction as almost every youngster out there knows him from the famous show, MTV Roadies. Rannvijay is a heartthrob and is loved my all for his drop dead handsome looks that are manly yet cute. He is also respected for his passion towards his work and the dignity he maintains in is language and conduct. He has also been a part of a couple of Bollywood movies and has modeled for countless projects.
Portfolio Shoot with Rannvijay Singh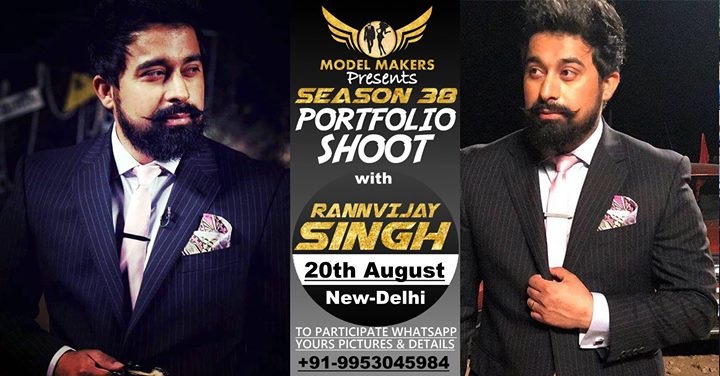 Being a part of the fashion and small screen industry for almost a decade now, Rannvijay is a perfect person to teach you the basics of modelling for a portfolio shoot. Do not miss this Golden opportunity to be face t face with him and interact for a better understanding of the basics of modelling.The event shall be held on the 20th of August, 2017 at M- 80 Basement, Saket M Block, Nearby Amity International School, Delhi, 110017. The timings shall be 9 AM to 6 PM.To be a part of this fabulous event, drop in your contact details and pictures on 9953045984 .
The registration fee for each participant happens to be INR 2500. For the complete photo shoot, you need to pay INR 6500. You can book your tickets on Goeventz.com for a hassle-free experience.
So, what are you waiting for budding models? Book your slots right now as we are confirming candidates on a first come, first serve basis.