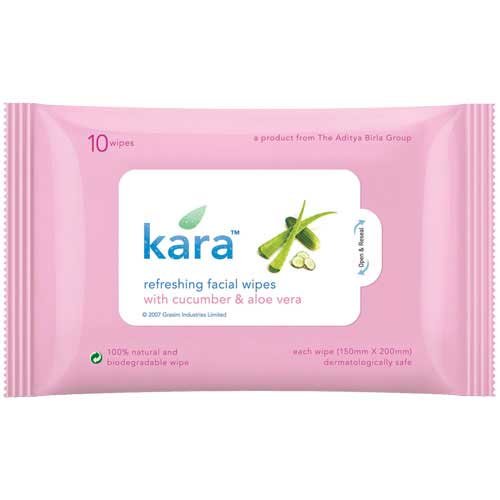 We are exposed to the outside climate; hence dirt gets piled up easily. It is not possible to wash the face in every 30 minutes and re-apply the makeup. And if, we are traveling, we cannot even afford for a face wash. Kara Refreshing Facial Wipes are a great remedy to instantly clean the face and remove the dirt without affecting the skin. It has cucumber and aloe-Vera extract, which are a boon for the skin.
Review for Kara Refreshing Facial Wipes:
I work as a trainer and have to constantly travel to various locations. This created a need for a solution that would save my skin from dirt and pollution. Thus, I started using Kara Refreshing Facial Wipes which comes in various flavors. Every individual has different skin and one must opt the products accordingly. My skin is dry and I opted for Aloe vera kara skin wipes. It adds moisture to my dry skin and also removes the dirt from the skin with a single wipe.
What I felt:
I feel that be it a homemaker or a working woman, the Kara Refreshing Facial Wipes must be a part of everyone's handbag. It is very easy to carry, but ensure that the moisture is sealed. There are smaller as well as larger packs. One can purchase as per their need. I also recommend to people who are constantly on travel plan to carry the Kara Refreshing Facial Wipes.
Price:
The prices are very reasonable and affordable. The Kara Refreshing Facial Wipes are priced at Rs. 15/- for 5 pieces.
Pros:
It is dermatologically safe.
It has fresh aroma.
It has cucumber extract which will nourish your skin.
It is very economical in pricing.
It is easily available.
Cons:
It cannot beat the effects of plain water.
It is not suitable for all the skin types.
Ingredients:
Aqua, Silicone emulsion, menthyl lactate, cuc mint oil, cucumber extract, aloe vera gel, chelating agent, preservatives and fragrance.
Hope this review has been useful to you. I always believe in sharing information with people if I am benefited with it.  Kara Refreshing Facial Wipes is a perfect product to gift your skin with. If you are a frequent traveler, you cannot demand anything handy than these wipes. If you are on a long journey and are traveling by train, you cannot experiment with your skin by using the railway water. It is better to use these wipes to clean your skin.
Image source – makeupandbeauty.com