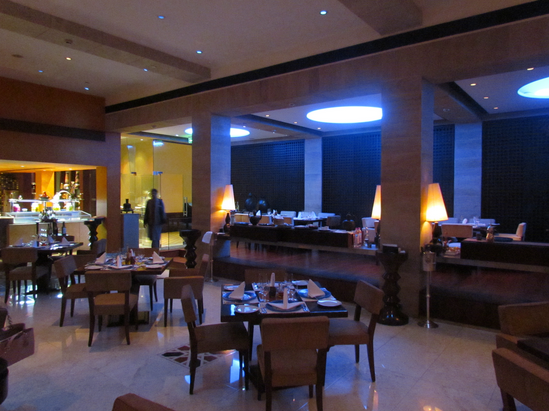 India is a beautiful country with a lot and lots of restaurants, no matter which part of the country you are in.Indians love spicy food and have a craze for trying out different cuisines, thanks to our taste buds!! One thing anybody would absolutely love is a great view and ambience while enjoying tasty food with your loved ones.
Here is a list of Top 11 restaurants with best views in India
Asilo – The St. Regis
This restro-bar is situated in the Lower Parel part of Mumbai.This is a rooftop restaurant that offers alcohol, finger-food and delicious European food to dine-in.You are sure to enjoy your evenings here with the perfect open-air ambience, comfortable couches, warm lighting.The canopy arrangement is especially delightful.The edge seats offer some stunning views of the city lights and Sea.
Souk-The Taj Mahal Palace
This place is for those who are looking out to try Mediterranean and Lebanese food.This place is located in Apollo Bunder, Colaba, Mumbai and offers a great view of the gateway of India and Mumbai harbor.
Bora Bora,Juhu, Mumbai
Located right next to Juhu Beach, this restaurant offers dine-in and bar facility.It has an impressive two-tiered structure.There are some really great snacking options, available out here, while, Nachos remain to be an all time favourite.
Ambrai,Udaipur
What could be more Romantic than a lake-side dinner.The Ambrai restaurant in Udaipur is located in the hustle-bustle of city but still offers a peaceful ambience.The dinner is served in an area of restaurant that lies by the Lake side of the stunning Pichola lake.Cool breeze, hot food, warm hospitality and the breathtaking views of Aravalis, the calm water, City Palace of the Maharaja of Udaipur are just what you need.
Raaj Bagh, Udaipur
The place has a rusty,huge entrance to allow you to step in with a typical old-worldly feeling.They serve food by the lake side of the huge Fateh Sagar Lake.The dinner tables are spaced out well so that you can enjoy your own privacy while trying out delicious North Indian and Rajasthani cuisine.
The Odyssey Restaurant
This restaurant is situated in the Sahara Mall at MG Road.It is a rooftop restaurant with live music and offers multi-cuisine dining.
Tease alfresco: A property of Vivanta by Taj
Situated in Gurgaon, it offers some yummy contemporary grills and sizzlers. This fine dining restaurant offers you an open lawn to have your meal, under the stars.
Pousada by the Beach,Goa
This restaurant is situated in North of Goa and offers some really good Goan cuisine.The best part is friendly staff and a super easy access to the beach, not to mention, beautiful views of the Arabian Sea.
Go with the Flow, Baga, Goa
Sea food lovers must visit this restaurant that gives you a chance to unwind and relax since, it lies just by the Baga river side
Arca Nova Restaurant
If you wish to enjoy your food while catching an awesome and magnificent view of the Arabian sea, then this restaurant is what we recommend to you.
Ginger house restaurant, kochi
Housed in the state of Kerela, that is aka God's own country, The Ginger house restaurant houses this one of it's restaurant.This restaurant is located within a museum and offers delicious ginger- flavored specialties with a slice of history! You get to enjoy a beautiful waterfront view, as well.