Fashion Designing is one of the most exciting career option and certainly many youngsters' dream.  Young people with an eye for style, trends, creativity and uniqueness can do wonders in this field of study. But with new prospects opening up every day it's important that you choose the right path to pursue this career. Fashion Designing is open at different levels such as diploma, graduate, under-graduate and post-graduate. One can also choose to do a certificate course or a specialized course in a certain field.
But it's very crucial that you pick the right and the best school once you decide to head down this path. So today we're going to help you explore the top five esteemed top colleges of Fashion designing in India.
5 Best Colleges for Fashion Designing in India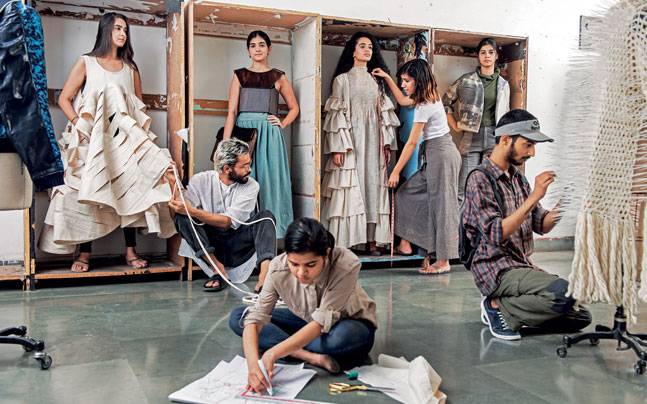 National Institute of Fashion Technology (NIFT)
Established under the Ministry of Textiles in 1986, this fashion design school is one of the best in the country. Although the prime center of NIFT is located in New Delhi, but there are a total of 16 centers throughout the country at Shillong, Rae Bareli, Patna, Delhi, Mumbai, Kolkata, Kanpur, Kangra, Jodhpur, Hyderabad, Gandhinagar, Chennai, Bhubaneshwar, Bhopal and Bengaluru. NIFT offers under-graduate and graduate level courses here.
National Institute of design (NID)
Another esteemed Fashion Design School, NID is being run for over 50 years under the Ministry of Commerce. Getting into this school is certainly a matter of pride for aspiring fashion designer. The center of NID is located in Gujarat, Ahmedabad.
Pearl Academy
Having established in 2003,this academy became one of the top fashion design school in no time. This private institute built a very successful reputation through a great curriculum and fine faculties. Approved by the Nottinghan Trent University, UK, Pearl Academy has its centers in New Delhi, Chennai and Jaipur. This academy has its tie ups with institutes in London, Toronto, Tokyo and Germany.
Symbiosis Centre of design (SID)
Another private institute set up under the Symbiosis International University, SID is one of the finest Design School in India. Amazing curriculum and training by top faculties has helped this institute built a strong reputation. Symbiosis Centre of Design is located in Pune, Maharashtra and has collaboration with the LaSelle College of Arts in Singapore.
Northern India Institute of Fashion Technology (NIIFT)
Established by the state government of Punjab in 1995 in collaboration with the National Institute of Fashion Institute(NIFT), this institute is one of the top ten Fashion Design schools in India. NIIFT, located in Mohali, Punjab offers courses in under-graduate and post-graduate level courses.