Beauty sleep is a very appropriately coined term. Since, beauty is believed to be directly proportional to the quality of sleep you are getting. Have you ever noticed that dark spots, puffy eyes, dullness of skin are all related to lack of proper sleep at night! So, we thought we should do a compilation of certain things you can buy for yourself to get a good quality sleep every night.
5 Things You Must Own For A Perfect Sleep At Night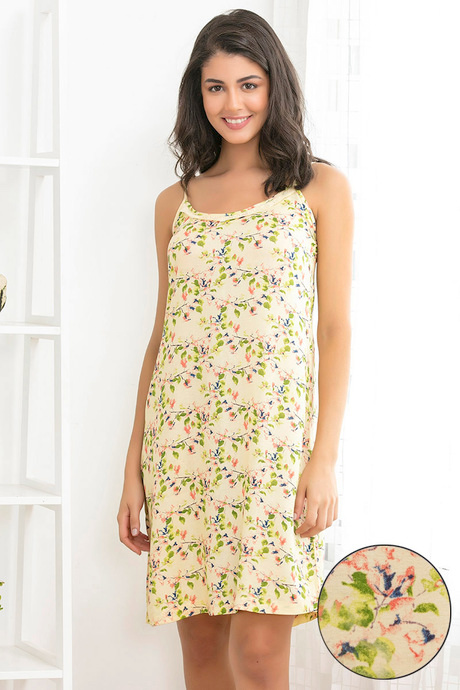 #1 Cotton nighty
The reason why cotton is such a popular choice of fabric in nightwear is because it is soft, comfortable and breathable. In most parts of India, it is really hot and humid during most months of the year.Therefore, having a couple of cotton nighties or cotton night suits is a must for all the ladies out there to prevent skin rashes, help in proper evaporation of sweat while sleeping. Not to mention, cotton is rather easy to wash and maintain.
There is a beautiful nighty collection in one piece, two-piece and even three pieces available on our favourite online destination Zivame! From solid colours to pretty prints to seductive nets. I personally, love their collection of cotton nighty tunics that are almost mid- thigh length and have fun prints and phrases like "Sleepover Saturday", "Today is the perfect day to be happy".Their collection of tropical and floral print cotton nightwear for women is great too. Basically, there is a lot of variety to take your pick from.You can buy now, if you please.
Learn how to keep your cotton clothes looking new for years, here
#2 Aloe vera eye mask
Eye masks are a great product to have for all women who are conscious about their beauty.I say so because Aloe vera eye masks can be cooled in refrigerator and put on eyes at night.These help to relax your eyes and remove all the puffiness in the under-eye area.
#3 White Noise machine
Very often, we are unable to sleep due to disturbances in terms of unwanted noise from neighbourhood.So, if you are an early sleeper then a White noise machine is another must have for you as it cancels out other noises and helps to catch up on some snooze.
#4 Lavender essential oil
Lavender fragrance is believed to have calming effect on your senses.It acts by tranquilizing your brain by stimulating certain areas.So, use Lavender essential oil in a diffuser in your room at night. Alternatively, you can invest in beauty products that have Lavender fragrance.
#5 A comforter blanket and shape-memory pillow
While it is great to have a cool room for comfortable sleep, it is also very important to have a soft and cozy blanket to keep you sufficiently warm and covered. A shape-memory, gel-based pillow on the other hand keeps your shoulder and neck well supported and helps to prevent stiffness and soreness of muscles in these areas.
I really hope that this post will help you get a good sleep at night. So, beauties Good night, sleep tight and wake up bright in the morning light!