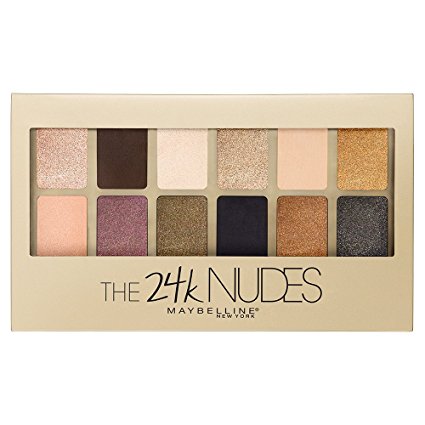 Maybelline New York 24K Gold Nude Palette Price – Rs 925
The Maybelline 24K Nudes Eyeshadow Palette is a combination of 12 shade with a mix of matte and shimmery shades. The colors are colors infused with metallic gold pigments. This 12-shade eye shadow palette is perfect for creating multiple everyday looks. Best Eyeshadow Palette India – Maybelline 24k Nudes
Wet n Wild Color Icon 10 Pan Palette, Nude Awakening Price Rs 499
Wet n Wild Color Icon 10 Pan Palette, Nude Awakening is a highly pigmented palettes. The eye shadow palette has a variety of colors, from shimmery to humid shades and matte transitional shades for faultless blending. The eye shadow 10-pan palettes are offered in four different coordinating shades. Definitely one of the best eye shadow palette in India Best Eyeshadow Palette India – Wet n Wild Color Icon Pan Palette Nude Awakening
Lakme 9 to 5 Eye Color Quartet Eye Shadow – Tanjore Rush, Price Rs 650
Lakme 9 to 5 Eye Color Quartet Eye Shadow Palette has versatile colors and high intensity eye shadows giving your eyes a defined finish. It has smooth & silken texture with an easy to use shades so, this palette is very useful for all looks: party/ wedding/ everyday look/ Night function. It is also existing in Desert Rose and Smokey Glam shades which are attractive too. Enjoy creating drama every day in your life!
L A Girl Beauty Brick Eye Shadow – Nudes, 12g Price Rs -950
L A Girl Beauty Brick Eye Shadow – Nudes, is must have palette with high pigmented long lasting shades. They come in range of textures and colors including matte and shimmer shades which go from an everyday look to a party night look. It also contains a double-ended brush and mirror inside. L.A. Girl Beauty Brick Eye shadow palette is a perfect pick for creating stunning makeup look!
MUA Eye Shadow Palette, Price: INR 1150
MUA Eye Shadow Palette Dusk till Dawn is a highly pigmented eye shadow palette that has 12 shimmer shades. This spectacular palette contains strong and deep shades as well as natural shades. It has a soft, blend able texture that slithers on with ease. This palette contains every color you need to create your stunning melodramatic effect mixed with natural look.
Blue Heaven Eye Magic Eye Shadow Palette, Price Rs – 125
Blue Heaven eye magic instant eye shadow is pocket friendly eye shadow palette. The palette comes with 4 colors and a smooth blend able formula that gives your eyes an extra pop for the occasion. Certainly it is one of the most inexpensive eye shadow palettes in India.
Colorbar Eye shadow Palette, Price Rs – 1350
Colorbar Eye shadow Palette Hook Me Up is a mix of wonderful-smooth mattes to sparkle shades. Also, it is perfect eye shadow palette for wedding season as it is highly pigmented. This beauty have an exceptional wet/dry formula for a custom &expert finish. Each shade has a velvety feel, ironic color with good staying power and bendability.
So, that's my list of Best Drugstore Eye Shadow Palettes in India. So let your eyes do all the talking with these stunning eye shadow palettes.