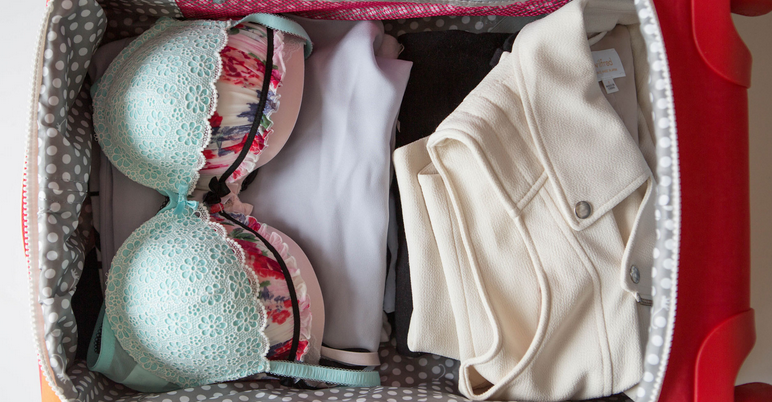 In Last 5 years after my marriage, I mostly travel by car. I think hardly twice and 10 times I had traveled by other mode of transports like Train and flight. Me and my family love to travel. We all almost travel every month or twice in a month for short holiday or for a business trip. We travel mostly by our owned car. While traveling by road or by any other mode of transport we cannot carry to much luggage as truly speaking I can't handle more then one bag. Thus its very important to store your cloths and other utility products safely in bags. There are many travel hacks but today I shared few of them among which I think are useful hotel, travel and road trip hacks.
Amazing and Incredible Hotel, Travel and Road Trip Hacks are as follow:
Store Earring With a Button
Do you love changing your earrings daily while traveling? I can hear yes from you as I love to change earring matching to my outfit. Its not important that I wear heavy dangles but I mostly prefer to wear small tops or trendy small danglers. When we keep our pairs of earrings together it sometimes mash up so badly that it always consume so much time to separate the earrings. Here is wonderful travel hack – Always store your earrings with a button.
Fill a binder with games, printable and other fun things
If you are planning to travel with your kids then here is another amazing travel hack for you. Carry printable and games to keep your kids engage. Fun things will make kids busy while traveling.
Charge phone through Tv's USB Slot
When you visit any hotel and all charging slots are busy then you can charge your phone with the help of usb cord. You just need to connect phone with T.v's usb slot.
Roll your cloths and pack your luggage
Instead of folding your cloths, you can roll and keep your cloths in your luggage so that you will get more space in your bag and you don't need to iron them again.
Create Travel Friendly Snacks Portions
Take small pouch and zipper packets to store your snacks. Small pouch will save space and its easy to use as well.
Use contact lenses case to store cosmetics
Take your old contact lenses case and in that fill your liquid cosmetics like foundation, lotions etc instead of keeping the entire cosmetics. These case are air tight as well as less space will be occupied.
Protect Your Razor
To keep razor opened is not safe, here is very useful hack to protect your razor. You can use a blinderclip to cover your razor.
Store your glasses, jewelry and breakables in shoe
While traveling many times our watch, glasses or any delicate items breaks. You can put these items in shoes so that they don't get damaged nor get lost.
Cover your shoes with shower cap
While traveling by road, its not possible to carry many bags for separate things. You can cover your dirty shoe with the help of shower cap and now you can keep this shoe in your bag.
Keep your cloths smelling fresh by dryer sheets
Many time because of weather or any other condition cloths in bags smells bad. To keep your cloths fresh and to avoid bad smell. You can use dryer sheets in between of your every cloths to avoid bad smell.
Screenshot travel direction
To save batteries and to avoid misplacing travel direction, you can screenshot your travel directions in your phone and then turn off location services. By this way you can save your phone battery while traveling.