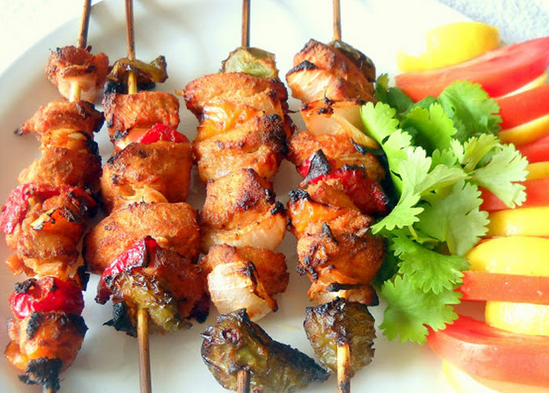 This is not my recipe but really lip smacking and delicious Tandoori Chicken recipe by my neighbor. Read on and I hope you all will love cooking Tandoori Chicken at home.
Serve: 2
How To Make Tandoori Chicken At Home
Ingredients to make Tandoori Chicken at home:
Whole Chicken: Two
Vinegar: Quater Cup
Ginger and Garlic Paste – Six teaspoon
Kashmiri Chilly Paste – Six teaspoon
Salt as per taste
Black Pepper powder – half teaspoon
Jeera Powder – half teaspoon
Dhania Powder – four teaspoon
Turmeric Powder – one teaspoon
Chilly Powder – three teaspoon
Tandoori Chicken Masala – one teaspoon
Tomato Sauce – two tablespoon
Melted Butter – two teaspoon
Hung curd – one cup
Method to Make Tandoori Chicken At Home:
The proportions I give is for 2 whole chicken to be got cut in big size tandoor pieces…
Clean n wash the chicken n soak it in water with 1/4 cup of vinegar added for around 15 mins n again wash it thoroughly so that all d smell goes off.. then put good number of incisions on the pieces so that the marinade reaches well into the chicken pieces.
In a big vessel mix all the below ingredients well.
6 teaspoon of ginger-garlic paste (available in market), 3 teaspoon kashmiri chilli paste, salt according to taste, black pepper powder, 1/2 teaspoon jeera powder, 4 teaspoon of  dhania powder, 1 teaspoon turmeric powder, 3 teaspoon  of red chilly powder, 1 whole tablespoon tandoori chicken masala, 4 tablespoon of tomato sauce, 2 tablespoon of hot & sweet tomato sauce, 2 tablespoon of red chilli sauce, 1 tablespoon of soya sauce, 1 teaspoon lemon juice, 2 tablespoon of melted butter, 1 cup hung curd, now mix all the ingredients well n add the chicken pieces to it n marinade it in the fridge for 8 to 12 hours.
Remove the vessel an hour before u keep it for being cooked…then add required amount of red color which is optional and 2 more tablespoons of tomato sauce again n mix well…and cook the chicken pieces in  gas tandoor preferably…Keep rotating chicken pieces well at regular intervals and keep brushing the pieces with butter so that they don't turn dry…n keep few pieces at a time.
Serve it with onion rings n coriander n mint chutney.
Tips:
Whatever excess masala remains u can remove it n use it in any other chicken gravy as well.
Hope you enjoyed reading this recipe. Do share your feedback. Suggestion are always welcome..