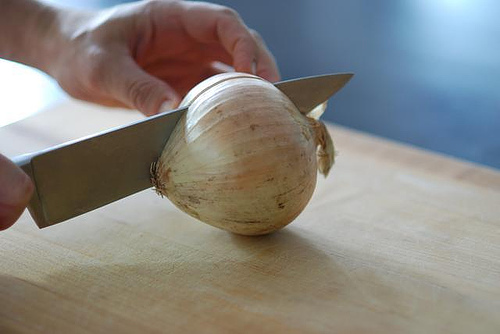 Onion always makes people cry while cutting it. When you indulge in cutting the basal shoot or plate, they immediately release an enzyme. It reacts in the onion to successfully release a gas. The gas combines with water to create an acid. Then we feel acid in our eyes. Do you wish to prevent it from happening? Here are our 5 test ways to chop onion without getting tears.
Chop onions without getting tears! Our 5 tested ways.
When cutting onions use a very sharp knife.
Use a sharp knife for slicing the onion. Then fewer enzymes are only released in the air. It is always the best option to cut onion with sharp knife in a careful manner without hurting your fingers.
In the freezer, chill the onions for 10 to 15 minutes just before cutting them.
This particular process largely reduces the actual amount of the acid enzyme that may get released into the air. It has really zero effect on taste so no need to get worried.
Under water, do chop the onion.
This is a very effective method. On the other hand, it is quiet difficult to indulge in cutting activities. It needs to be executed well without an attack on your eyes. Do note that water does its trick for you.
Breathe through properly with your mouth plus stick your tongue out.
This largely draws the gas just over your tongue that is wet. The olfactory nerves that are located closely to the tear duct nerves actually will be bypassed plus there wouldn't be any tears generated.
In water, soak the onion
The enzyme is de-naturized through the water-air boundary. You can give this particular method a try if you like milder onion.
Do try out any of the above methods so that you don't cry in your kitchen while dealing with onions. You can also share these methods with your family members, friends and relatives.