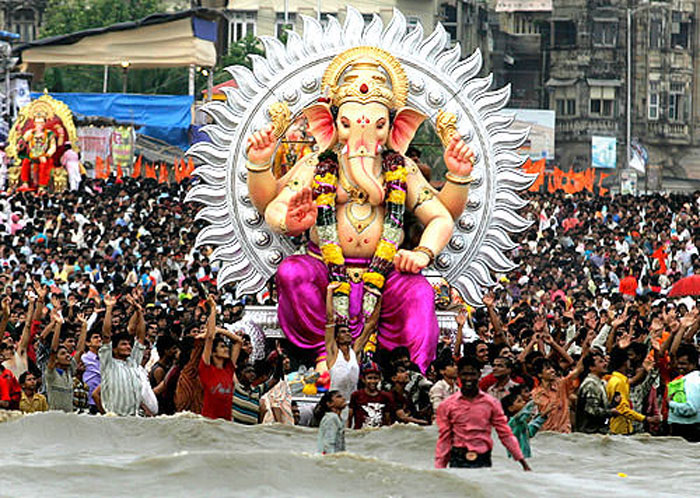 Ganesh Chaturthi, also known as Vinayaka Chaturthi or Vinayaka Chavithi, is a popular Hindu festival celebrated in honor of the elephant-headed god Ganesha. It falls on the fourth day of the Hindu month Bhadrapada, usually in August or September.Tourists from across the globe come to India to witness the holy celebrations of Ganesh Chaturthi as part of India tour packages.
Here are 6 places to visit to celebrate a wonderful and unforgettable Ganesh Chaturthi festival.
Places to Celebrate Ganesh Chaturthi
Mumbai
Colorfully decorated idols of Lord Ganesha are installed both at homes and in Sarvajanik Ganesh Pandals. Lalbaugcha Raja, Mumbaicha Raja, Siddivinayak Temple and KhetwadiGanraj are the famous Ganesh Pandals in Mumbai. Ganesh Chaturthi lasts from seven to ten days in Maharashtra. On the first day of the festival, the idol of Lord Ganesh is placed on a stage that symbolizes a throne.  The festival ends with the 'Ganesh Visarjan' where the idols are immersed in the water. The most prominent of immersions occurs on Chowpatti Beach.
Pune
Tambdi Jogeshwari Ganpati, Kasba Ganpati, Guruji Talim, Tulsi Baug Ganpati and the Kesariwada Ganpati are the top 5 Ganesh idols in Pune. This is the order in which these idols are immersed on the last day. Apart from these, another well-known mandal is the Dagdusheth Halwai Ganpati that creates a replica of the many popular monuments and temples of India. The celebrations in Pune are done traditionally and they try their best to ensure that no citizen is disturbed in these celebrations.
Hyderabad
The famous places where Ganesha idols are erected and decorated fascinatingly are Khairatabad, Balapur, Kamalanagar Chaitanyapuri, Durgam Cheruvu, Old City (Gowlipura) and New Nagole. Khairatabad in Hyderabad hosts one of the largest Ganesh idols in the country. Khairatabad Ganesh will be 58 feet Ganesha idol and is named as Sri Sakthi Peeta Shiva Nagendra Maha Ganapathi.
Ganpatipule
The Temple of Ganapatipule becomes the center of grand activity for the 10 day celebration of Ganesh Chaturthi when villager's and pilgrims join actively in a procession honoring Ganapati. A bigger idol is placed in alavish palanquin and carried on the shoulders of the devotees through the village accompanied by a priest and a drummer. This festival is marked by vibrant celebrations, prayers and feasting.
Kanipakam
The Annual Festival (Brahmotsavam) is conducted for 21 days starting on the Hindu festival Vinayaka Chavithi or Ganesh Chaturthi. Nijaroopa darshanam (without armor and decoration) is offered during early morning poojas. It is celebrated with all traditional pomp and gaiety. The Utsava Murthi (festive idol) is taken out in procession on all the days colorfully decked on different Vahanams (Carriages). The soulful participation of the devotees is praise worthy.