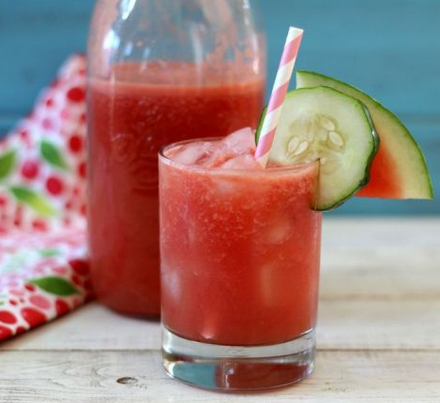 Hello,
We are at mid of Summer and in Mumbai – India, temperature reaches as high as 45 degree Celsius. Being mother of toddler, I keep on researching in Google for different recipes to make my son happy. My son is now 3.5 years and he keep on playing like little monkey and bunny all day long. If I ask him to stay in A.c Room then he don't sit for more then 5 minutes in one place. Thus to maintain his body temperature and to make internal system cool, I prepare drinks which can help him to beat the heat and to keep his energy level high. These juice's are very good for healthy for you mommies too.
Summer Drinks for Toddlers and Kids
Cucumber Watermelon Cooler
Convert your normal watermelon juice by adding some cucumber juice too! Watermelons are mostly water. It also contains anti-oxidants, vitamins and is excellent to hydrate the body. Probably why watermelon is associated with summer. Cucumber is considered to be cool and hence is best for summers. Apart from keeping you cool, it also contains fiber, sodium, vitamins A and K.
Papaya Date Shake
Papaya sounds a bit unappealing to kids. But this fruit tastes yummy with dates making a delicious drink. Papayas contain anti-oxidants, vitamins and minerals. This fruit is good for the digestive tract, immunity, arthritis, heart diseases etc.
Dates help to keep the energy levels high. Dates contain many vital vitamins and minerals.
Ingredients
Papaya sliced lengthwise – 3 slices
Dates – 6
Milk – 1 glass
Method
Soak the dates in some milk or water for an hour or two. Remove the seeds. Put the dates, milk and papaya in the blender. Adjust the consistency by adding milk as required.
Minty Lemonade
Lemons are rich sources of vitamin C. It helps to strengthen the immunity, help you deal with allergies, reduce chances of stroke and cancer and increasing iron absorption. It also helps to maintain a healthy complexion. Along with adding freshness, mint is good for the digestive system. It helps to fight cold, cough, allergies etc.
Ingredients
Lemon – 1/2 no
Water – ¾ cup
Sugar/honey – to taste
Mint leaves – a few
Method
Mix-up the mint leaves in the jar you plan to mix the lemonade. Add the lemon and water. Mix well. Add honey or sugar for taste.
Sweet Lime Lassi
Sweet lime contains Vitamin C and it is good for digestion, ulcers, respiratory problems, immune system and is known for its anti-cancerous properties. It is also good to avoid urinary infections. It is especially good for the summers as it helps to treat dehydration and heatstroke!
Ingredients
Curd – ½ cup
Water – ¾ cup
Sweet lime – 1 no
Sugar/honey – to taste
Method
Extract the sweet lime juice and leave it in the fridge to cool. Do this to avoid splitting of the curd. The hot weather and acidic nature of the sweet lime can cause things to go bad. After it is cool, blend all the ingredients together using a blender. This is an easy way to heaven and your little one is sure to love it. But ensure that it is consumed immediately, the heat can cause it to go bad.
Sugarcane Juice
Sugarcane is an excellent drink in summers to maintain your energy levels and kids love it as it is sweet and tasty.
Ingredients
Sugarcane pieces – 2
Ginger – a small piece
Lemon – 1
Water – 1 cup
These are 5 easy to make summer drinks for your toddlers and kids. Keep visiting my E-magazine for more updates on food section and parenting section. Do comment and let me know about your kids reaction after drinking these yummy drinks.