The 'National Trade Fair- Organics & Millets' for the year 2017, was conducted in the cyber-city, Bangalore from the 28th to 30th of April. The even was graced by many dignitaries, including  Agriculture minister of India Shree Krishna Byre Gowda. This exhibition cum conference was conducted with an aim to promote Agriculture and Horticulture in Karnataka. The principle motto is to make Karnataka the major producer,processor and marketing center for Organic Millets in India.
National Trade Fair Organics and Millets – 2017 – About This Event and What I Liked Most
National Trade Fair- Organics & Millets emphasized Organic Farming and it's benefits which includes:
production of high quality and completely safe to consume agricultural produce. Organically grown crops contain no chemical residues. The event also witnessed the launch of an App related to benefits of Millets and fun recipes to try called as, "Millet Melodies" and a recipe book that contains various interesting recipes to try.
I along with my sister in law attended this event for all the three days and enjoyed listening to various informative lectures, studies related to organic farming in India. There were many stalls by farming groups, produce buyers, exporters, manufacturers of farm equipment and value added products.
The star ingredient of this Trade fair were Millets. Millets are small seeded cereals/grains that need almost 70% less water to grow as compared to Rice. They need, no pesticides and as good as none, chemical fertilizers to grow. All these properties make Millets, one of the most organically cultivated and environment friendly crop. To make the even interesting and more memorable, there were many interesting contests like cooking competition, drawing competition etc.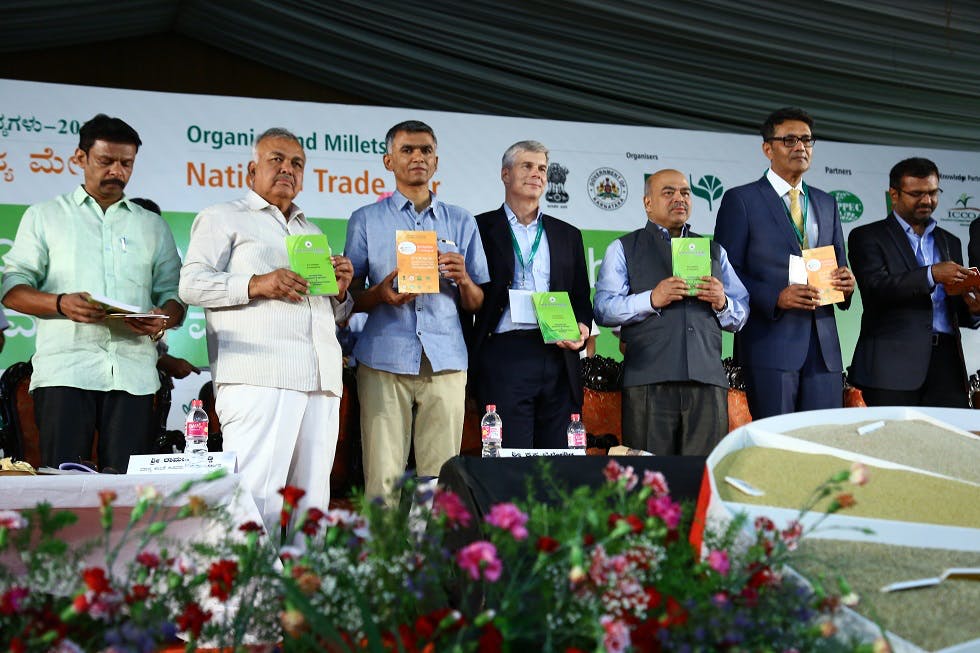 For the Health conscious, Millets are a great grain to include in their daily diet because of the presence of  high Protein content, dietary fiber, B complex vitamins, essential amino acids, Vitamins,  and  crucial trace minerals.
I bought organic mango and millet's biscuits and came back home with a lot of knowledge on Organic farming and immense Health benefits of consuming Organic Millets, in particular and organic food, in general.