Now that the Diwali festivities are over, the one thing all of us dread is the weighing scale. We have indulged ourselves to the peak and now is the time to clean and detox the body.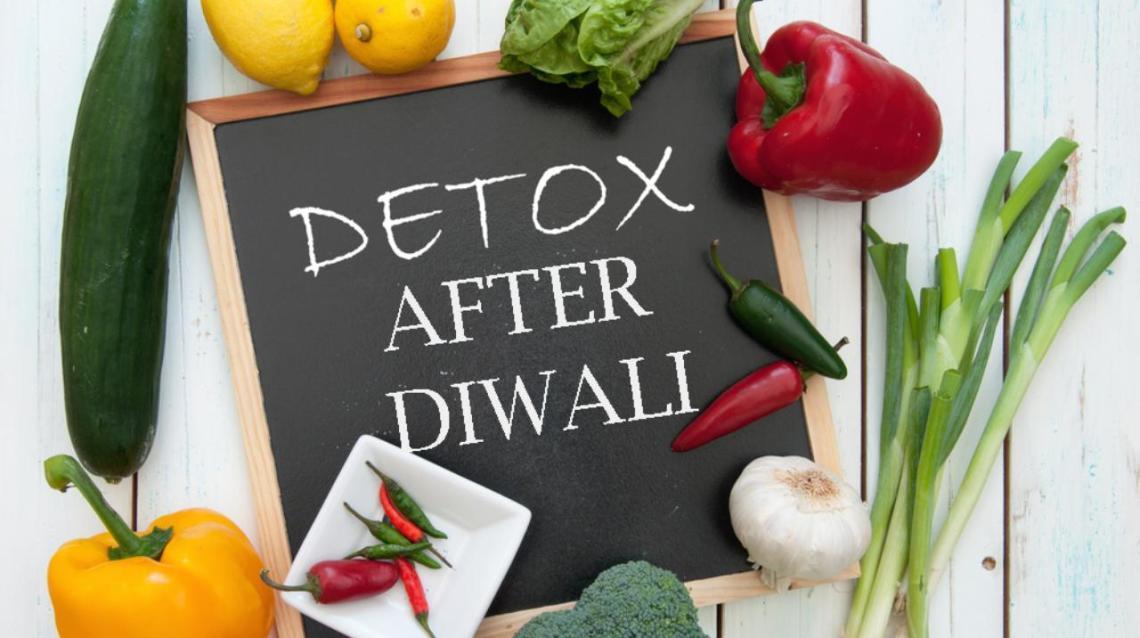 For a lot of people detox seems like big images of struggle with processed food, sweets, caffeine, but detox is a simple and a natural process. Your body knows how to clean and flush out the toxins. It is one of the most basic functions as same as our heart which beats nonstop and lungs breathe continuously, your metabolic processes constantly get rid of accumulated toxic matter through your internal organs every day. It happens during the festive season that we overload our systems.
It is very common to feel bloated after festivals. Diwali gives an opportunity to connect with our loved ones and conduct wide variety of activities from late night card parties to consume festive food but we tend to forget about the after effects of the festival which is unpleasant. But there are many effective ways to detoxify your body and help you deal with internal issues and shed the unwanted kilos naturally.
A detox diet helps to flush out toxins from the body, improve digestion and metabolism giving you a glowing skin naturally.
Here are few steps which you can follow for a natural detoxification of your body:
How To Detox Your Body After Diwali
Real Live Food:
There are some natural food items which deactivate toxins and remove them from your body. Therefore, you should aim to incorporate as many fresh fruits and vegetables as possible. You can also include Nuts, Salads, Curd and Oil seeds and lots of fluid in your diet.
Hydration:
This is the most important part in detoxification process. Hydrating body to eliminate toxic particles is the best thing to do because it rejuvenates every cell in the body. So, try to consume at least 2 to 3 liters of water every day. You can infuse your water with traditional detoxifiers like tulsi and lemon. You can also use Green tea for detoxification. The best thing you can consume in water is "Herbalife Nutrition's Afresh Energy Drink Mix" which is made for natural detoxification.
Exercise:
Aerobic exercise is a wonderful detoxifier. Any form of aerobic exercise like walking, swimming, cycling, etc will strengthen your lung capacity which boosts the metabolism by improving oxygen carrying capacity of lung cells. Break your exercise in smaller time periods of 10 minutes each.
Sleep:
A good night's sleep is the top most things to do because it regenerates the body and helps with the healing and repairing of your heart, blood vessels and muscles. Avoid caffeine before bed and keep a gap of at least 2 hours between your last meal and bedtime.