I have used various online dating apps right from the time I was a bachelor to find somebody I cupid share my life with to this day when I often go to online dating apps to find new friends. I am going to provide you a brief review of this fabulous dating app called OkCupid, today. You can install this app. on Android as well as iOS based software's. This app is compatible for phone as well as tablets. Upon installation, the very tagline of this app had a punch that makes it stand out.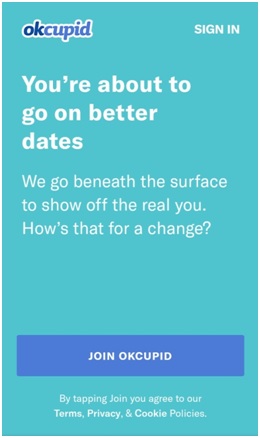 Picture credit: OkCupid App
The introductory page of OkCupid says, "We go beneath the surface to show off the real you." So, out here on this app, you cannot create a profile by randomly uploading a couple of selfies #SubstanceOverSelfies. You need to describe who you really are through a series of Questions. Therefore, I would safely say that OkCupid is one mobile application that is designed for users looking for serious relationships rather than casual dating or harmless flirting. To clarify, this is not exactly a matrimony app but a platform where you can try and find your soulmate, who you can later on decide to marry. This is for serious love relationships and not hookups.
Picture credit: OkCupid App
I love the layout and modern vibe of #OkCupid that gives people a platform for creep free dating. This app provides you a sort of middle ground. The modern Indian youth believes in choosing their life partner on their own and do not want to be forced into marriage by family pressure. I too have an independent mindset and truly believe that everybody must have the liberty of making their own choices in life. One must have the freedom to choose their relationships, sexuality and friend circle. So, this app is a good one for finding somebody you would like to try, test and pursue people before settling for marriage or a long term commitment.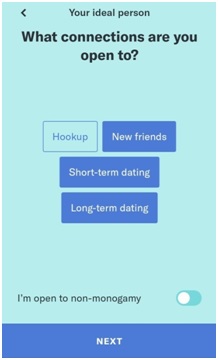 Picture credit: OkCupid App
After signup, you need to put up a basic description about yourself. Select options regarding what kind of relationship are you looking for, that is: new friends, short term relationship or long term relationships. Next, you can upload your pics. This step is followed by a series of questions regarding your lifestyle, personal likes/ dislikes like: food, beverages, hobbies, and habits, political and religious views to access you as a person as well as to find out the general qualities in your prospective partner. Some questions are really fun while other focus on deeper and more serious aspects of life. I came across certain questions like, "Can you survive on Maggie for a week?" and "Would you be okay if your partner eats non veg while you do not?" So, basically the questions are real and address issues that might create problems between couples in future. Some Questions focus on important aspects of life but are not "Fake Deep." Another feature I liked is that at the end of each question, they give you an option to select whether "Is this important to me?"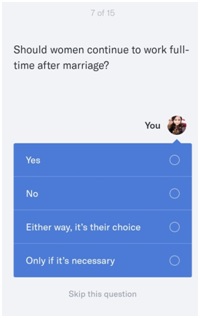 Picture credit: OkCupid App
You need not self evaluate much as the model of this App is based on numbers. So, based on your answers and what you desire from a partner, they suggest you matches. After you have answered some questions, you are shown certain profiles on the app. These profiles are of the people who share same opinions and views as you. As you swipe through the profiles, you can like or pass them. It is really good that the site can backup their algorithms. You get notifications for likes and messages only and seriously do not have to deal with all kinds of non sense stuff like smiley faces, winks and stuff. I loved the minimalistic, neat and user friendly format.
The popularity of this App can be judged by the fact that it has a strong user base of over 10 Million people. They are available on iOS & Playstore  OkCupid has excellent advertising and branding but what matters most is that they genuinely care about their users finding compatible partners and meaningful relationships. The app is liberal as hell as it lets you choose from 12 gender identities and almost 20 sexual orientations. I personally found a couple of new friends here both males and females and am having a great time interacting with them.
Overall, I love how chic and modern this app is and how it is designed for progressive youth.