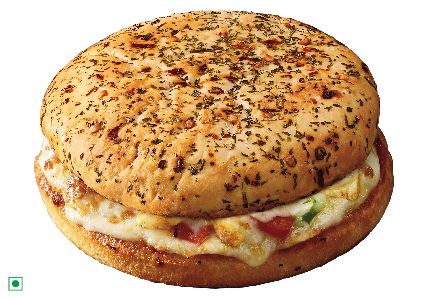 No one say no to Domino Pizza Burger. It is a mouthwatering recipe exclusively available in Domino's outlets. Pizza Burger is famous for its tasty flavor and toppings. Have you ever tried this recipe in your home? Not yet…?
Make Domino's style Pizza Burger in your home by following the steps in the post and very easy to make.
Make Domino's Style Pizza Burger
Preparation time – 10 minutes
Cooking time – 30 minutes
Serves –  four
Required ingredients
Pizza dough- 1 batch
Olive oil-as required
Domino's Oregano Seasoning- as required
Tomato- one sliced
Mozzarella cheese- two cups grated
For filling
Oregano-1 teaspoon
Tomato ketchup-3 tablespoon
Paneer- 200 grams cubed
Green chilli- 2 cut in round shape
Bell peppers- 2 cups finely sliced
Olive oil- 1 teaspoon
Salt- to taste
For sauce
Ketchup-1/4 cup
Mayonaisse-1/2 cup
For dough
Warm water- ¾ cup
Olive oil-2 tablespoon
Salt-1/2 teaspoon
All purpose Maida/flour- 2 cup and more
Sugar-2 teaspoon
Dry yeast-1.5 teaspoon
Garlic –3 cloves
Preparation method
Take a bowl and add warm water, sugar, yeast. Keep it away for five minutes till yeast makes it bouncy and stimulated. Now, add garlic, flour and salt, blend them well till it roll into a sticky dough. After that add few drops of oil and compress well. Finally cover the bowl with a plastic wrap and keep aside for 60 minutes with increase in size.
Now, take the pizza dough in a bowl. Break into small balls of equal size. Smoothen the balls and compact it.
Take a parchment lined baking pan and sprinkle oil for seasoning. Ensure the oil covers whole pan. Place the dough in the pan, top it with oil and spray more for seasoning.
Do these steps for 45 minutes and in the final 10 minutes; pre heat the oven to 220 degree Celsius. Transfer the pan to the oven and bake it for 12 minutes. After that take out and set aside to cool.
Blend the sauce ingredients, keep it aside.
Now, take a pan, add oil, bell peppers, green chilli and sauté for thirty seconds.
Add Paneer and cook for few minutes. Add salt, Oregano, ketchup and mix them well. Filling completed.
Take the bread rolls and divide it, sprinkle the sauce and cheese. Now, top with filling and tomatoes. Sprinkle more cheese and Oregano.
Place the other half over it and bake it in the oven for 5 minutes.
Now the favorite Domino's Pizza Burger is ready to serve.