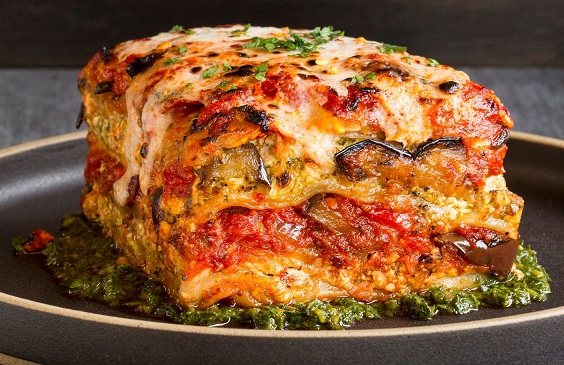 Vegetable lasagna is a beautiful dish which is extremely delicious to have. It is always not possible to go to the restaurant. Hence, the recipe of restaurant style lasagna can be something to die for. Following are the ingredients that are needed to make this dish.
Restaurant Style Vegetarian Lasagna
Ingredients
1 package of lasagna noodles
A pound of sliced fresh mushrooms
¾ cup of green bell paper (chopped)
¾ cup of chopped onion
3 cloves of minced garlic
2 tablespoons of vegetable oil
2 jars of pasta sauce
1 teaspoon of dried basil
1 container of ricotta cheese (part-skim)
4 cups of mozzarella cheese (shredded)
2 eggs
½ cup of Parmesan cheese (Grated)
Method
After accumulating all of these ingredients, here is the list of steps that need to be followed.
You need to cook the noodles. This cooking needs to be done in a pot for about 10 minutes. The pot needs to be filled with boiling water. After this, you need to rinse using cold water while draining it thereafter.
Then you need to cook as well as stir all the vegetables which include green peppers, mushroom, garlic, onion in the oil. This needs to be followed by stirring all of these in the sauce of pasta and basil. You need to bring this to a boil. After this, you need to reduce the heat while simmer it for about 15 minutes.
Mix ricotta along with 2 cups of cheese. Then you need to add eggs.
Then preheat the oven to about 350 degree. After this you need to spread about 1 cup of tomato sauce in the bottom of a baking dish which is greased enough. Layer the lasagna noodles, mix of ricotta, and sauce along with the Parmesan cheese. You need to repeat the layering while toping with the remaining cheese.
Lastly, bake it uncovered for about 40 minutes.