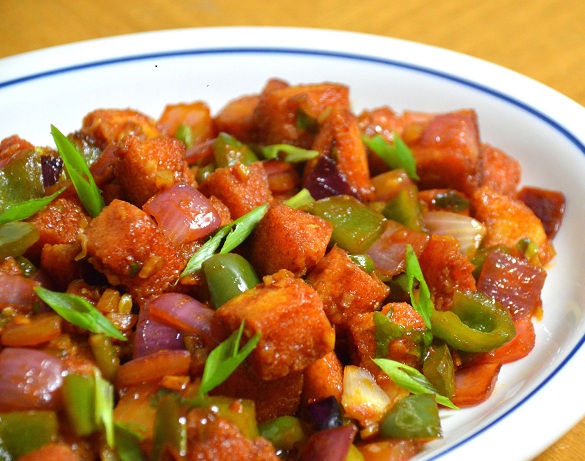 Fried Idli is one of the simple and easy Indian snack you can make. Fried Idli is one of my favorite way to serve simple and plain idli. My hubby does not like to eat plain Idli thus I prepare spicy fried idli for him. Fried idli can be served as lunch, snacks or salad. To prepare fried idli I am using rice idli witch, you can even use rava idli as well.
Fried idli will be loved by your kids as well and it will be great lunch box meal which is very healthy and satisfying too. This can be done with leftover idlis as well.
Serves 4
How To Make Spicy Fried Idli At Home
Ingredients to make spicy fried idli
Leftover idlis – 5 (each cut into 8 pieces)
Chilli Powder – 2 teaspoon
Capsicum – 1 (cut into small squares)
Baby corn – 4 (divide into half)
Onion – 1 ( cut into 4 piece and split all layers)
Garam Masala – ½ tablespoon
Green Chili – 5 whole
Grated Coconut – 1 tablespoon (optional)
Curry Leaves – Few
Mustard Seeds – 1 teaspoon
Ginger Garlic Paste – 1 Teaspoon
Schezwan Sauce or Chutney – 2 tablespoon
Chili Sauce – 1 tablespoon
Tomato Sauce – 2 tablespoon
Oil – To Fry
Method To Make Spicy Fried Idli At Home
Take Kadai or Frying Pan, heat some oil in it. Shallow fry leftover or fresh idli. Take it out from flame and place it in oil absorbing paper and keep it aside.
Reduce oil from pan and see only 2 tablespoon oil is left in pan. Heat oil and add mustard seeds, curry leaves and saute it nicely.
Add chopped onion,capsicum slices, baby corn slices, chopped coriander leaves,whole green chillies, garam masala,salt as per taste,ginger- garlic paste and grated coconut (optional) one by one and saute well.
Add Green chili sauce, Schezwan sauce or chutney,  tomato sauce and saute it once again.
Then add fried idli pieces and mix it well.
Serve hot.
Tips:
You can use idli pieces directly instead of frying it.
Never fry idli more than a minutes.
You can garnish it with grated cheese as well.
Never use too much chili sauce as it contain salty flavour.
You can use small pieces of fried paneer as well to make it more healthy.