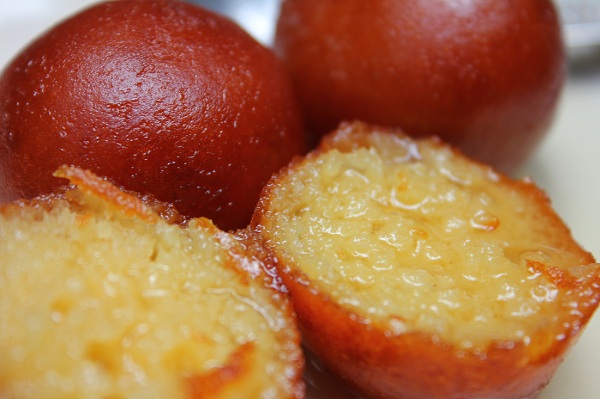 Think of a sweet and Gulab Jamuns just pop up in the mind, such is the effect of this delicious sweet. Whether you have a sweet tooth or not, you will be tempted to eat at least a piece of Gulab Jamun. Be it festivals or weddings, Gulab Jamuns will always be added in the menu. Wanna try them at home? Here is the simple recipe to satisfy your sweet tooth:
Serve: 20 small gulab jamuns
How to Make Gulab Jamuns at Home
Ingredients Make Gulab Jamuns at Home
Mawa also popularly known as Khoya
Soda bicarbonate – Quater teaspoon
Maida also popularly known as refined flour- Three tablespoons
Cottage cheese or Chenna – Half cup
Ghee Half cup
Sugar Half cups
Water as required
Cardamom powder as required
Method To Make Gulab Jamuns At Home
Take khoya in a container and mash it well. You can purchase it readymade or can make it at home. It is the end result of the evaporated milk.Avoid any lumps in it. You can also grate the khoya if you dislike mashing it up.
Add the refined flour and sodium bicarbonate to it and blend them well. Mash till there are no lumps and the texture is smooth. Form it to smooth dough. You can add few drops of milk if you find it difficult to make the dough. Add the chenna also in between the process of making dough as it is also a major ingredient. Store the dough in a container and cover it as the moisture may evaporate. Meanwhile, take a saucepan and pour some water in it.
Add the granulated sugar to it and stir it. Making it little thick and put it over the gas. Heat the sugar liquid till it becomes sticky. Keep the flames low as it might affect the quality of the sugar syrup. When it is a single thread consistency, remove it off from the gas.
Keep the sugar syrup aside. Now take the dough and make small balls out of it. The sizes may vary depending on your preferences. Add cardamom in between the balls to give a better taste. Heat the ghee in another pan.
You can also use the oil instead. Place the freshly made balls in the ghee one by one, keep the flame low and deep fry it. Fry it till it is golden brown in color and dip it into the sugar syrup that we prepared earlier. Let is be dipped for 20 minutes. Let the balls absorb the sugar completely.
Your Gulab Jamuns are ready to eat. Serve them hot.
Tips:
Do not leave the khoya balls uncovered as it might dry up and become almost hard.
Keep the flames low.
Stir continuously while making the sugar syrup.
Do not overcook or leave uncooked.
Hope you liked this simple and sweet recipe. Therefore do experiment it at home and share your experience with us. Gulab Jamuns are everybody's favorite and can be the best dessert if served with a scoop of ice-cream.