Hello,
Greetings to everybody reading my blog right now! Each one of us has different types of hair care troubles that bother us like anything. I have straight hair which tend to get dry and frizzy after using a shampoo and for quite some amount of time, I had been losing hair strands after using a shampoo or, for that matter whenever, my hair gets messed with like, combing or oiling. This was happening to me since I became a mom. So, I guess some deficiencies led to my hair texture growing brittle.
So, one fine day, I decided to put this hair fall thing to an end.Hair fall is a serious issue that you cannot ignore since your mane is your crowning glory!! I had been taking good diet as recommended by various experts across the internet, oiling my hair twice a week.Still, the results were not hundred percent.I came across many bloggers taking up the #14DayChallenge with the NEW, BEST EVER PANTENE FOR HAIRFALL.
I felt a strong urge to take up the challenge as well and here are some details about the product sent to me plus my experience.Read on…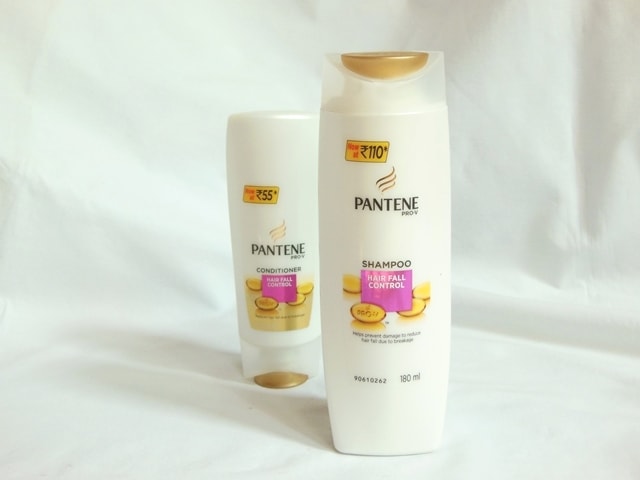 Pantene Hairfall Control Shampoo And Conditioner Review – #14DayChallenge
Product claims
The specially fabricated combination of the new Pantene Pro V hairfall control shampoo and conditioner, claims to help brittle hair by reinforcing their natural strength.
Packaging
Signature White and Golden colour combination of Pantene with beautiful graphics and a cap that needs to be flipped in order to open the bottle.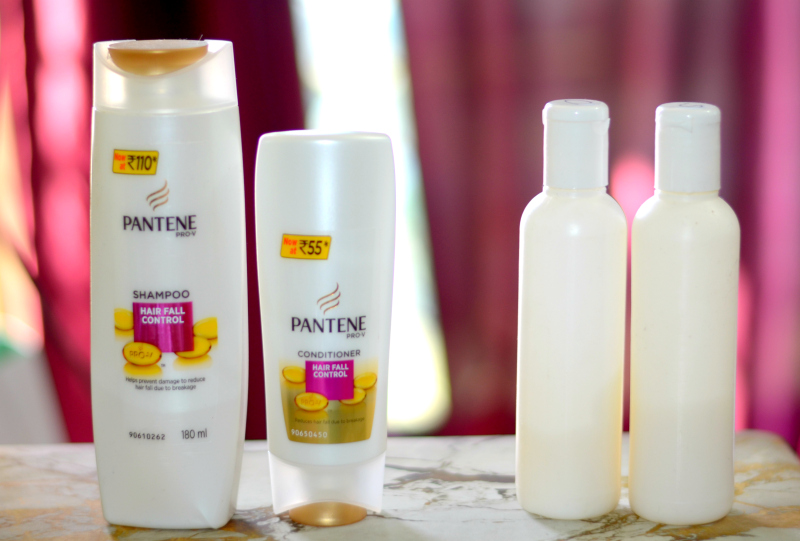 Price in Indian markets
INR 110 for 180 ml shampoo
INR 55 for 80 ml conditioner
The product is readily available online
Consistency
Thick and creamy consistency
The good about Pantene Hairfall Control shampoo and conditioner
Handy pack with beautiful graphics
Reasonable pricing of the combo
Lovely fragrance
Shampoo cleans scalp and hair and foams richly
Conditioner closes hair cuticles and makes them hydrated
Marked reduction in severity of hair fall, especially after shampooing within 2 weeks of usage
Good for regular use as makes hair silky, healthy and manageable
The bad about Pantene Hairfall Control shampoo and conditioner
Nothing that I can particularly point out
My experience
The combination of Pantene Hairfall Control shampoo and conditioner has worked beautifully to take care of the problem of hair fall which had been bothering me since a long time.I Would like to add that I actually started feeling and witnessing the difference after nearly 6 washes, using this product.
I am not too sure how it works but yes, the texture is creamy which makes it easier to work with and I do not have to rub it much or mess up my hair much in order to create a rich lather.Apart from this, the shampoo has moisturising properties and rinses off easily.Conditioner has a rich texture and locks in moisture into my hair.This makes the entire process of washing your hair a relaxing and pleasurable one.
Post shampoo, a beautiful fragrance is retained by my hair and the degree of tangling is reduced to Zero!! So, no hair fall while towel drying or combing my hair, at all.I am going to continue using this for a lifetime now.
Will I recommend this product to my readers?
Definitely worth a shot for all those suffering from hair fall.
Here are my Social media Share for -#14DayChallenge by Pantene
Here is my #Selfie in white. Very close to win battle against hairfall with the new improved pantene. #14DayChallenge @Pantene_India #hair pic.twitter.com/sQJL6YR3OB

— Apsara Mishra (@apsaramishra) October 4, 2016
Here's my happy hair move to show my win against hairfall. Thank you to the new, best-ever Pantene. #14dayChallenge @Pantene_India #ad pic.twitter.com/nA39BmMZsG

— Apsara Mishra (@apsaramishra) October 12, 2016
I took up the #14DayChallenge as a part of  product review activity at BlogAdda in association with Pantene. Do try this product and get visible change.