Summer is already here and April and July are the months that witness lots of Indian weddings. Every young dude out there wants to look his best for the wedding functions, just like the ladies. Earlier, the number of choices for men to choose their attire used to be very limited but now, Indian ethnic wear is undergoing a change and quite a lot of choices are available for men to take their pick from. You can visit designer outlets or pick your ethnic wear online. There are many options in terms of colours, fabrics, textures etc when it comes to Kurtas and Jackets for men. For certain functions like cocktail party, it is okay to stick to formal suits, for other functions like: Haldi, Mehendi ki raat and the wedding itself, nothing beats the distinguished look you get from a kurta set or ethnic jackets.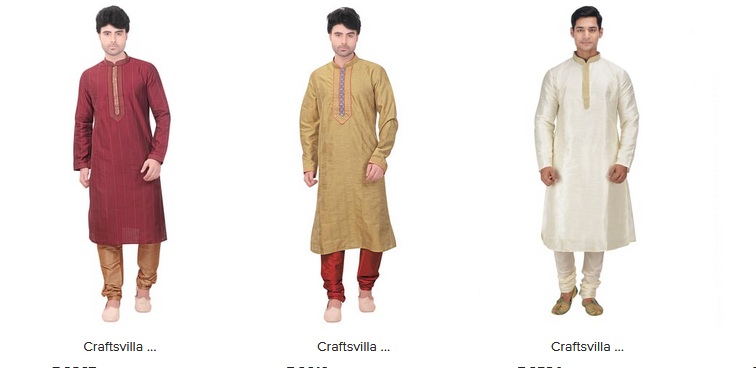 Men's ethnic wear collection at Craftsvilla
For those of you who prefer online shopping, Craftsvilla a trusted website to buy Indian wear and accessories, has come up with their latest collection of Men's ethnic wear which looks tad elegant and offers you a flamboyant range of colours to choose from. All colours that you can possibly think of, right from Olive, Ble, Beige to even soft Pinks are available on this website. They have a nice collection of knee length, full length and short kurtas.The styles range from very basic and casual ones to pretty elaborated designs. As per your personal style, you can team these kurtas and jackets with dhotis, churidar pyjamas, salwars, denims or even.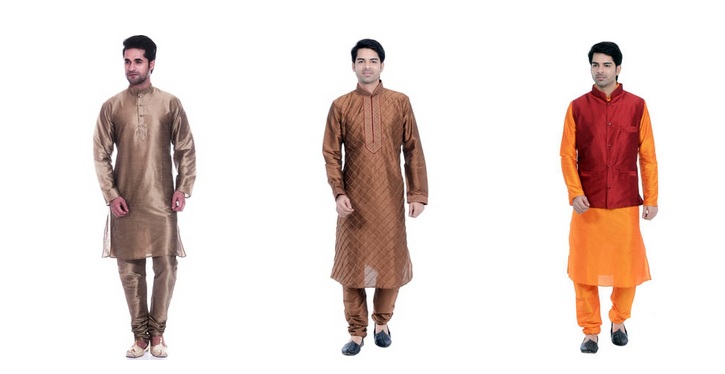 The collection of kurtas has matte finish as well as glossy fabrics. All types of lengths are available with a variety of necklines, including bandhgalas, chinese collars, V-neck and buttoned up style etc. The designers have also experimented with asymmetric length kurtas for men apart from regular cuts.While the kurtas exclude simplicity and class, the collection of jackets, however, is more fun and vibrant. There are lots of prints to choose from. In men's jackets, lots of solid colours as well as floral prints, polka dots, Jaipuri prints, geometric prints etc are available. These Jackets have a semi formal appeal to them, especially those which are available in solid colours. You can wear them to office, meetings by pairing them up with a basic pair of shirt and trousers. For parties, team these jackets with kurta pyjama set and you are good to go. All standard sizes from Small to XXL are readily available.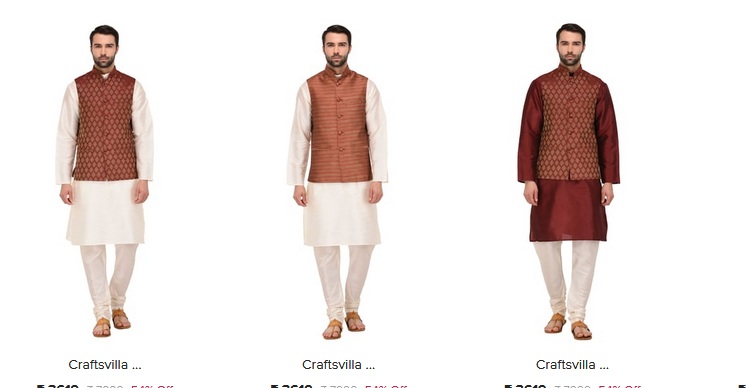 Even if you are looking for daily wear stuff to wear, they have an extensive collection of light, summer wear cotton and Linen kurtas. I have already added four pieces for my husband. I chose a line kurta, a solid colour jacket that has Nehru collar, a floral printed jacket and a casual short kurta. So, what are you waiting for people, go ahead and add some of these awesome, chic pieces to your summer wardrobe in order to make every occasion a memorable one.