It is very common to hear all the hype around the words, "dieting" and "workouts", these days because everybody is in a kind of rush to get fit and stay in shape. While staying fit is great, I, still firmly believe that you must respect your body and not push it beyond limits. Also, I am a firm believer that you have only one life and depriving yourself of the things you like to eat  or drink is not very fair. The key is to indulge in moderation, know about your medical conditions and making exercise a part of your life rather than a thing you would only do in a gym. Have you checked out this lovely video that shows unique ways and cheats people can use to stay healthy!
Stay Apne Tareeke Se Healthy With Saffola
Here are a few ways I use to stay fit in my super busy schedule.
The first thing I do in morning is to drink either a cup of Green tea or Warm water with half a Lemon. This detoxifies my system early morning and gives me some motivation to make the right kind of choices, for my health throughout the day!
I am very fond of reading health related articles to keep my info updated and stay aware.
I have made it a part of my habit to eat a nutritious breakfast within an hour of waking up. We must not delay or skip our breakfast as doing so can create lows of blood sugar levels making you crave for unhealthy food through the rest of the day. I prefer a breakfast that gives me a mixed lot of nutrients including: vitamins, minerals, some carbs and lots of fibre. My usual breakfast combinations are:
Masala Oats with soaked Almonds and walnuts along with some fruit salad
A smoothie made out of low fat milk, unflavoured oats, vanilla protein powder, Banana and honey
Vegetable or paneer stuffed brown bread sandwich with a glass of juice
Not only are these combos full of fiber, Vitamins, proteins and minerals but having such a breakfast keeps me full for a good number of hours.
Masala Oats are my personal favourite out of the list because when I am running late in morning for work, I know I can make them real fast while not compromising on the nutrient value of breakfast for myself and my family. Saffola masala oats come with a small recipe book, this way you can try out some variations!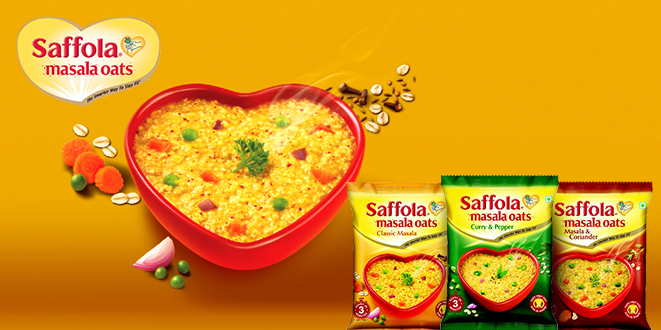 I have tried out the following:
(1) Honey sweetened oats with fresh cooked in milk
(2) Plain masala Oats with a quick dash of oregano and coriander for extra flavour
(3) Oats Khichdi with finely chopped veggie that have been soften in pressure cooker.
Whenever I am commuting by metro train, I prefer to take stairs instead of elevators and escalators.
While going shopping, I take the stairs at malls instead of lifts.
After dinner, I prefer going for a light stroll around the block with by husband. I follow the rule of 500 steps after dinner. We use this time to talk about our day at work and certain important things that need to be purchased. At times, we also plan about managing our finances while walking briskly.
At the end of each day, I do some light stretching exercises to release the tension that has built up in my muscles, throughout the day. To not make this very monotonous, I usually listen to my favourite music or watch a good show on television.
Once a month, I go for a full body massage. Massages are enjoyable and very distressing. They improve blood circulation, encourage removal of toxins from body and also relax your muscles.
I also get an annual health check up done. So that I stay aware of any deficiencies and health conditions that I might be unknowingly suffering from.
So, that is all about what I am doing presently to maintain my health and well-being. There are not hard and fast rules for staying healthy, so sneak in health and exercise in anything you want and customize your own health plan. Thoda push karo, thoda try maaro!! This way, you can be #ApneTareekeSeHealthy.
I am joining Saffola #ApneTareekeSeHealthy initiative and sharing my ways of being healthy in association with BlogAdda.